Cold Lake Origins & Evolution
Cold Lake has gradually molded itself from an amalgam of indigenous hunting grounds and European fur trade outposts to what we witness today – a vibrant, multi-cultured city that radiates warmth despite its frigid name.
Settled by Europeans in the late 18th century, Cold Lake thrived on fur trading and gradually nurtured a booming agriculture sector. Following the post-World War II uranium boom and later Cold War military interests, the Cold Lake Air Base became a mainstay of the city, imparting an exciting dynamic to the city's evolution over the last few decades.
City's Geography & Demography
Positioned on the proverbial edges of the prairies and the beginning of Canada's boreal forest, Cold Lake enjoys a prime location. This Albertan city boasts a wealth of natural beauty, with clean, clear waters flanked by sandy beaches and old-growth forests.
The climate is cold and temperate – summers are short, warm, and wet, while winters are long, snowy, and windy. The city's demography is diverse, reflecting a blend of indigenous roots and cultural influences from its European settlers and military personnel. The city's current population is around 15,000.
Cultural & Artistic Landscape in Cold Lake
Cold Lake hosts several exciting events throughout the year, like the Cold Lake Air Show, the annual Winter Festival, and the outdoor music festival 4 Wing Summer Cruise. A tour of Cold Lake's murals, which are spread throughout the city, offer a beautiful gaze into its past and present.
The city is home to the Cold Lake Museums, which house the Air Force Museum, Oil & Gas Exhibition, Heritage Museum, and the Aboriginal Artifacts collections. It is a mesmerizing journey through time, representing fascinating aspects of Cold Lake's history and culture.
Educational & Research Facilities
Cold Lake supports lifelong learning, with public libraries and institutions such as the Cold Lake Campus of Portage College, which offers a diverse range of courses. High schools such as Cold Lake High School and Assumption Jr/Sr High School provide a solid foundation for the city's youth.
Cold Lake's Highlights & Recreation
Prominent landmarks include Cold Lake Marina, one of the largest inland marinas in Western Canada, and the Provincial Court of Alberta. Cold Lake Provincial Park, with its varied wildlife and stunning lake views, offers exceptional camping, hiking, and birdwatching opportunities.
The Kinosoo Beach is a delight for visitors, with its clear waters and sandy shoreline. For winter sports enthusiasts, the Kinosoo Ridge Snow Resort is an unmissable destination.
Commerce & Conveniences
There's a blend of local boutiques, like Trends for Home, and well-known retail outlets in Cold Lake. Banking facilities from renowned institutions and post offices dot the landscape for easy access. Seasonal sales in winter and summer fuel the city's shopping spirit.
Transport & Connectivity
Public transport is available, but the city remains navigable by road. 4 Wing Cold Lake, one of Canada's busiest fighter bases, also serves as the city's connection to the skies. The Iron Horse Trail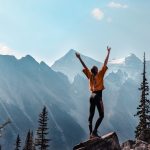 An Iconic Journey: The Iron Horse Trail's Historical Significance With over a century steeped in history, Canada's Iron Horse Trail is more than just a path trodden by transient adventurers. Its presence serves as a timeless testament to a bygone era of hope, endurance, and the human spirit's unyielding quest for development. Constructed on the abandoned Canadian National Railway line... offers over 300 km of Alberta's historic rail trails for walking, cycling, or ATV excursions.
Sports Facilities
Cold Lake comprises several sports facilities, including The Energy Centre, a multipurpose recreational facility, and the J.J. Parr Sports Centre. These facilities ensure the availability of something for everyone, from skating to indoor soccer.
Traveler's Final Take
Cold Lake melds the charm of a serene small town with the vitality of a city. It offers known comforts while boasting a unique character shaped by history, natural beauty, and culture.
From a city birthed through the fur trade to a vibrant community embracing modernity while preserving its heritage, Cold Lake is truly a wonder waiting to be explored.
Must-Visit Spots in Cold Lake
Cold Lake Air Show
Cold Lake Museums
Cold Lake Marina
Provincial Court of Alberta
Cold Lake Provincial Park
Kinosoo Beach
Kinosoo Ridge Snow Resort
Trends for Home boutique
4 Wing Cold Lake
Iron Horse Trail

Trail Origins & Evolution The city of Trail, situated in British Columbia, Canada, holds a rich history that traces its roots to the 19th century. The city was founded by prospectors during the Gold Rush era, enticed by its bountiful deposits of minerals, mainly gold, silver, and copper. Later, the thriving mining industry prompted the construction of the Trail Smelter,...

The Energy Centre
J.J. Parr Sports Centre