Trois-Rivières Origins & Evolution
Trois-Rivières, translating to "three rivers" in French, is a city steeped in colonial history. Founded in 1634, it is recognized as the second oldest city in Quebec. Its genesis is tightly woven with the story of French exploration into the New World. Over the centuries, Trois-Rivières has transitioned from fur trading post to industrial hub — renowned for producing paper, clothing, metal goods, and alcohol. Recently, it has focused more on the service sector and innovation, becoming a center for culture and learning.
After an extensive fire in 1908, impacting the majority of its historical territory, Trois-Rivières was transformed through intense urban planning. Its Old Town district founded post-fire is now a renowned cultural treasure. The amalgamation of charming old-world architecture and contemporary buildings underscores the city's richness and continuous evolution.
City's Geography & Demography
Located at the confluence of Saint-Maurice and Saint Lawrence rivers, Trois-Rivières adorns the center of Quebec province. Its hierarchically triangular geography is reflected in its name. The city's climate is a blend of humid continental, with warm, sometimes hot, summers and cold, snow-filled winters bringing an enchanting, seasonal diversity.
As of 2016, the city's population stood at just over 134,000. Characterized by a youthful and vibrant populace, it has an increasingly diverse ethnic mix, making it a kaleidoscope for cultural interaction.
Cultural & Artistic Landscape in Trois-Rivières
Trois-Rivières offers an immersive cultural experience befitting its history. The annual International Festival of Poetry souvenir of Octave Crémazi demonstrates the city's love for literature, whereas FestiVoix de Trois-Rivières is a cornucopia for music aficionados.
The Musée Québecois de Culture Populaire, Musée Pierre-Boucher and Musée des Ursulines offer insight into local culture and heritage. Art lovers will appreciate the city's vibrant art scene, displayed at Galerie d'art du Parc and Centre d'exposition Raymond-Lasnier. Multiple theaters, including the Théâtre du Cégep de Trois-Rivières and the Maison de la Culture, host a variety of performances throughout the year.
Educational & Research Facilities
The Université du Québec à Trois-Rivières and its science and humanity schools enhance the city's intellectual clout. The university's research centers, working on topics ranging from forestry to hydrology, further underline the city's commitment to innovation and research.
Trois-Rivières offers multiple public libraries, including the Bibliothèque Maurice-Loranger and the Bibliothèque Gaston-Miron, which cultivate its edifying atmosphere.
Trois-Rivières's Highlights & Recreation
Trois-Rivières houses outstanding landmarks like the cathedral Basilique Notre-Dame-du-Cap and the historic Old Prison of Trois-Rivières. Parks such as Parc Laviolette and Parc de l'Île Saint-Quentin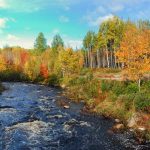 Saint-Quentin Origins & Evolution The bustling city of Saint-Quentin, fondly referred to as the "Maple Capital of Atlantic Canada," owes its origins to the rural settlers of European descent who arrived in the late 19th century. Officially incorporated as a town in 1992, this charming city has seen transformative growth and development from its days as a small settlement to... provide ideal locations for relaxation and recreation.
Commerce & Conveniences
The city center, brimming with shops, cafes and restaurants, is a shopping haven. Trois-Rivières hosts multiple banks and postal services for convenience. The city's renowned seasonal sales draw visitors and locals alike seeking a bargain.
Transport & Connectivity
An efficiently operated bus service, the Société de transport de Trois-Rivières, maintains connectivity across the city. Trois-Rivières also has an airport, catering mostly to chartered flights. Rail and bus stations serve as important transit hubs for those traveling regionally and beyond.
Sports Facilities
Trois-Rivières is a sports city with facilities like the Stade Stereo+ which hosts soccer and the Hippodrome 3R for riveting horse races. Ice hockey, a local favorite, is enjoyed at the multiple arenas across the city.
Traveler's Final Take
A visit to Trois-Rivières encapsulates a journey through time, natural beauty, a vibrant cultural scene, and a pulse of urban life; all enwreathed in a welcoming Quebecois charm. Its distinctive character, influenced by its history, people, and stunning geographic location, will leave an indelible impact on all who visit, producing memories to treasure.
Must-Visit Spots in Trois-Rivières
Old Town district
The annual International Festival of Poetry and FestiVoix de Trois-Rivières
Musée Québecois de Culture Populaire, Musée Pierre-Boucher and Musée des Ursulines
Galerie d'art du Parc and Centre d'exposition Raymond-Lasnier
Théâtre du Cégep de Trois-Rivières and Maison de la Culture
Université du Québec à Trois-Rivières
Bibliothèque Maurice-Loranger and Bibliothèque Gaston-Miron
Basilique Notre-Dame-du-Cap and Old Prison of Trois-Rivières
Parc Laviolette and Parc de l'Île Saint-Quentin
Stade Stereo+ and Hippodrome 3R