High River Origins & Evolution
The charming city of High River, located in the southern part of Calgary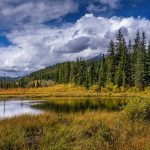 Calgary Origins & Evolution Calgary, located in the foothills of the Rocky Mountains of Alberta, Canada, has a rich and diverse history. Its name originates from a bay on the Isle of Mull, Scotland. It was officially founded as a town in 1884, and by the year 1891, it had elected its first mayor. The development of Calgary was primarily..., Alberta in Canada, has a rich cultural history that dates back to the late 19th century. The city was founded in 1892 and derived its name from the Highwood River, which is prone to frequent floods. Over the years, High River has grown considerably in population and industry, evolving from a small farming settlement into a bustling city that boasts a unique character and an inviting ambiance.
The city has maintained much of its historical architecture, with several buildings offering a glimpse into its storied past. Notably, High River was used as the primary filming location for the globally popular television show, "Heartland," which has significantly increased tourism and bolstered the local economy.
City's Geography & Demography
High River embraces a diverse geography combining the natural beauty of the Canadian Prairies and Rocky Mountains. The city's climate is classified as a humid continental climate, with warm summers and cold, snowy winters.
According to the 2016 Census, High River has a population of over 13,000 people, showing a population growth of 20.4 percent when compared to its population in 2011. The city boasts a diverse demographic mix, enriching the cultural fabric of the community.
Cultural & Artistic Landscape in High River
High River's art and cultural scene is vibrant and dynamic, reflecting its rich heritage. The city is brimming with events, museums, theaters, and art galleries that add to its cultural diversity. The Museum of the Highwood, an important institution in the province, showcases regional history and heritage. The well-loved High River Gift of Music Society brings in world-class musicians for concerts throughout the year. The town's cultural pulse is also strengthened by events like the High River Show and Shine, and the popular Little Britches Parade and Rodeo.
Educational & Research Facilities
High River is home to several excellent educational and research institutions. The town has a range of school options, including public primary, elementary, and secondary schools, along with a few private institutions. Post-secondary education opportunities are available through the Bow Valley College High River Campus. The High River Library, with its expansive collection of books and materials, serves as an important resource for students and researchers alike.
High River's Highlights & Recreation
High River possesses an array of landmarks, parks, and recreational spots that provide hours of fun and relaxation. George Lane Memorial Park, one of the city's most cherished green spaces, is a wonderful place for picnics, quiet strolls, and outdoor activities. Another popular spot is the Highwood River, while nature lovers will undoubtedly enjoy a visit to the nearby Frank Lake Conservation Area.
Commerce & Conveniences
When it comes to commerce, High River offers a diverse range of shops, banks, postal services, and experiences. From large retail outlets such as Sobeys, to smaller, local businesses like Colossi's Coffee House located in downtown, you can find it all in High River. Seasonal sales and farmer's markets are also common, providing fresh produce and unique local products.
Transport & Connectivity
High River enjoys excellent connectivity, with well-structured roads and highways connecting the city to various parts of Alberta. Public transport includes buses and taxis, providing easy access to all parts of the city. Moreover, Calgary International Airport, located just an hour away, offers convenient links to destinations across the globe.
Sports Facilities
For sports enthusiasts, High River provides an array of facilities. The Bob Snodgrass Recreation Complex is a multi-purpose facility, featuring pools, arenas, and a gymnasium. Other amenities around the city include various parks and green spaces that are perfect for running, cycling, and other outdoor activities.
Traveler's Final Take
High River, with its distinct character, historic charm, and a host of amenities, stands out as a unique gem in Alberta. It represents a wonderful blend of culture, history, recreation, education, and commerce, promising a delightful experience for residents and visitors alike.
The city's highlights include the George Lane Memorial Park, Highwood River, and the Frank Lake Conservation Area. High River's educational and research facilities stand out with Bow Valley College High River Campus and the High River Library. Shoppers will enjoy the local and retail outlets scattered throughout the city, and sports lovers can visit the Bob Snodgrass Recreation Complex or enjoy the outdoor recreational spots.
Must-Visit Spots in High River
Museum of the Highwood
George Lane Memorial Park
Frank Lake Conservation Area
Bow Valley College High River Campus
High River Library
Bob Snodgrass Recreation Complex
Colossi's Coffee House
Sobeys
High River Show and Shine
Little Britches Parade and Rodeo