The Winnipeg Art Gallery: A Historical and Architectural Gem
Tucked away in the heart of Winnipeg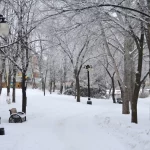 Winnipeg Origins & Evolution Known as the "Gateway to the West," Winnipeg, Manitoba's capital city, was originally settled by Indigenous peoples and later became a fur-trading post for the Hudson's Bay Company in the late 18th century. Officially incorporated as a city in 1873, Winnipeg quickly became a bustling railway hub due to its strategic location at the confluence of..., the Winnipeg Art Gallery stands tall as one of Canada's most treasured landmarks. With a rich history and remarkable architectural design, this cultural hub promises visitors an unforgettable experience. Step inside, and be prepared to be captivated by the gallery's unique character, noteworthy features, and the incredible journey it has taken through time.
Established in 1912, the Winnipeg Art Gallery has served as a beacon of artistic expression for over a century. Initially housed in a humble three-room building, the gallery has since blossomed into a world-class institution. Today, it proudly showcases an extensive collection of over 27,000 artworks from renowned artists across the globe. From vibrant Indigenous masterpieces to contemporary installations that challenge traditional norms, the gallery's diverse range of exhibits invites visitors to explore the vast tapestry of human creativity.
An Architectural Marvel: A Symphony of Design
At the heart of the Winnipeg Art Gallery's allure lies its architectural beauty. Designed by Gustavo da Roza and opened in 1971, the gallery's building itself is a piece of art. Renowned for its striking modernist design, the structure features a grandiose triangular glass façade that punctuates the city's skyline. This architectural marvel not only serves as a visually stunning entrance but also allows natural light to permeate the galleries, creating a harmonious interplay between art and nature.
As you walk through the gallery's halls, you'll encounter the famous rooftop sculpture garden, curated with meticulous attention to aesthetic detail. The breathtaking panoramic views of downtown Winnipeg serve as a backdrop to an assortment of sculptures, providing visitors with a unique vantage point to appreciate both the artwork and the city's ever-evolving skyline. This seamless integration of art, architecture, and nature is a testament to the gallery's commitment to creating a multifaceted and immersive artistic experience.
A Journey Unparalleled: From Artist to Adventurer
Visiting the Winnipeg Art Gallery is not merely a passive encounter with art; it is an immersive journey that engages all senses. Beyond its permanent collection, the gallery hosts a myriad of ever-changing exhibitions and educational programs, ensuring every visit delivers something new and invigorating. Here, you'll not only witness captivating artworks but also find yourself partaking in thought-provoking discussions, engaging workshops, and enlightening tours that invite self-reflection and appreciation for the creative process.
Moreover, the Winnipeg Art Gallery's commitment to showcasing Indigenous art and fostering dialogue about their rich cultural heritage sets it apart. The award-winning "Inuit Art Centre," set to open in 2023, will create an unparalleled space for Indigenous communities to reclaim and celebrate their artistic traditions. Through partnerships with Indigenous artists and communities, the gallery aims to bridge historical gaps and foster a deeper understanding of Indigenous cultures, making the Winnipeg Art Gallery a significant landmark for cultural reconciliation.
As you plan your Canadian bucket list, ensure the Winnipeg Art Gallery claims a top spot. With its remarkable history, awe-inspiring architecture, and commitment to showcasing diverse artistic expressions, a visit to this iconic landmark promises an experience that transcends mere sightseeing. Get ready to be inspired, challenged, and moved by the art that finds its home within these walls.