Petit Rocher Origins & Evolution
Situated in northeastern New Brunswick, Petit Rocher was established in 1797 by Acadian settlers looking for independence. Over the years, this small city has retained much of its Acadian heritage, with the majority of locals speaking French. The unique character of Petit Rocher is rooted in its history, with monuments such as the Sainte-Thérèse-d'Avila Church testifying to its long-standing Catholic traditions.
The city has evolved over more than two centuries from a small fishing community into a balanced town with well-preserved traditions and modern facilities. Petit Rocher's development can also be attributed to the evolving industries in the town, shifting from primarily fishing and agriculture, to the mining industry, and ultimately now hosting a vibrant tourism industry.
City's Geography & Demography
Petit Rocher sits on the shores of the Chaleur Bay, characterizing its coastal geography. The city benefits from a maritime climate with warm, humid summers and typically snowy winters, offering a variety of seasonal activities for locals and visitors alike.
The town's population, just shy of 2000 residents, largely comprises Acadians, who have preserved their unique cultural and linguistic heritage. The city's demography reveals an engaging blend of history and modern lifestyle. Despite its small size, Petit Rocher has a vibrant atmosphere brought about by its warm communities and constantly evolving economic sector.
Cultural & Artistic Landscape in Petit Rocher
Petit Rocher, despite its size, stands tall with its rich culture and arts scene. The city hosts its annual 'La Fête du Maquereau', a summer festival that celebrates the region's culinary specialty, smoked mackerel. The event showcases the city's unique Acadian music and folk dances.
The town also houses the Petit Rocher Library, which regularly hosts exhibitions featuring the works of local artists. Petit Rocher takes pride in nurturing local talent and providing them exposure to the larger Canadian art scene. The library also doubles as a venue for cultural events and workshops, fueling the city's vibrant arts scene.
Educational & Research Facilities
Despite being a small community, Petit Rocher proudly boasts its quality education system. The city is served by the École L'Escabelle, a primary school which exemplifies the city's commitment to bilingual education. The Petit Rocher Library also serves as an important learning resource, offering services and programs for all age groups.
Petit Rocher's Highlights & Recreation
The city offers numerous natural and cultural attractions, including Petit Rocher Park, an ideal location for hiking, and the city's coastline, a beauty to behold, especially in the summer. A visit to Petit Rocher Wharf is a must for any traveller looking for an authentic local experience.
Azilda Beach, with its sandy coastline and warm water, is a perfect spot for swimming or sunbathing. Similarly, Petit Rocher Marina is another highlight, being a hub for water-related sports and activities.
Commerce & Conveniences
Petit Rocher, although being a small town, houses some essential commercial establishments, including Le Marché St. Georges — a grocery store that also hosts a post office. The town also has the Caisse Populaire, a local credit union serving the financial needs of the community.
The city's charming streets host a variety of restaurants, cafes, and souvenir shops that augment the local economy. Seasonal sales and local craft fairs further make Petit Rocher a delightful commercial hub for those looking to take home a piece of its unique character.
Transport & Connectivity
While Petit Rocher doesn't have its airport, the close proximity to Bathurst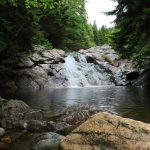 Bathurst Origins & Evolution Located in Eastern Canada, bathed by the Chaleur Bay waters, Bathurst is a picturesque city with a rich history. Founded in 1826, Bathurst evolved from a colonial dominion into a dynamic, multifaceted city. It initially thrived on shipbuilding and later immersed itself in railway and mining industries. Present day Bathurst, while maintaining the vestiges of its..., which houses the Bathurst Regional Airport, ensures excellent connectivity for the residents and visitors alike. The town is also well-served by shuttle services, taxis, and private car rentals.
Sports Facilities
Petit Rocher hosts the Petit Rocher Stadium, an outdoor sports facility that serves as a hub for several local sports events and recreational activities. The city's geographical location also offers water sports facilities, including boating and sailing clubs at the Petit Rocher Marina.
Traveler's Final Take
Petit Rocher is a quintessential Acadian town with a rich heritage that harmoniously blends with its thriving tourism industry. It's perfect for travelers looking for a quiet seaside escape infused with a warm and vibrant local culture. From its scenic and recreational offerings to cultural festivals and convenient amenities, Petit Rocher is a small city that is sure to leave a big impression.
Must-Visit Spots in Petit Rocher:
Sainte-Thérèse-d'Avila Church
Petit Rocher Park
Petit Rocher Wharf
Azilda Beach
Petit Rocher Marina
Le Marché St. Georges
Caisse Populaire
Petit Rocher Stadium
École L'Escabelle
Petit Rocher Library