Wallace-Woodworth Origins & Evolution
Nestled in the heart of Manitoba, Canada, the amalgamated municipality of Wallace-Woodworth was established in 2015. Evolving from the small rural municipalities of Wallace and Woodworth, it now encompasses a broad area rich in history and diversity.
Its founding sprang from a desire for regional service growth, unity, and more efficient governance. The integration of Wallace and Woodworth has not only fostered stronger community bonds but has also played a crucial role in preserving and promoting local history, culture, and identities.
City's Geography & Demography
Located in the southwestern region of Manitoba, Wallace-Woodworth lays claim to a mixed topography of rolling prairies, picturesque valleys, and serene lakes. The vast landscape makes it an attractive destination for nature enthusiasts and adventurers.
The city encounters a continental climate, characterized by distinct seasons. Its population, though modest in number, encapsulates a fine blend of demographic cohorts, fostering a rich mix of perspectives and cultures that underpin the community's ethos.
Cultural & Artistic Landscape in Wallace-Woodworth
Wallace-Woodworth boasts a vibrant cultural scene. Annual events like the Harvest Festival and Holiday Train capture the essence of community spirit, while establishments such as the Lemon Tree Art Gallery offer a platform for local artists.
The vibrant theatre culture is epitomized by the Wallace District Arts Council, which regularly organizes plays and performances bringing in talent from the region and beyond. This amalgamation of arts, culture, and community interaction makes Wallace-Woodworth a fine melting pot of creative expression.
Educational & Research Facilities
Wallace-Woodworth's education infrastructure is robust with well-reputed public schools. They are complemented by the presence of two libraries – Elkhorn Library and Virden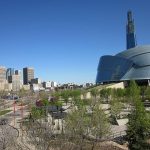 Virden Origins & Evolution Situated in Manitoba, Canada, Virden is a historically rich city tracing its origins back to the late 19th century. Established in 1882 during the westward expansion, Virden quickly became an essential stop on the Canadian Pacific Railway due to its location amidst fertile farming lands. The city underwent substantial growth thanks to the oil boom in... Library – which provide a wealth of knowledge resources for the community and promote literacy and continuous learning.
For research enthusiasts, the Wallace District Museum offers rich insights into local history and heritage, further bolstering the intellectual vibrancy of the area.
Wallace-Woodworth's Highlights & Recreation
The area offers a wealth of recreative opportunities. From the breathtaking beauty of the Assiniboine Valley, teeming with diverse flora and fauna, to local parks like Moffat Park, perfect for a leisurely stroll.
The Oak Lake Beach is a popular spot for water-related activities, while Vert Ice Hockey Arena becomes the center of community interaction during the winter sports season.
Commerce & Conveniences
From quaint local shops to modern retail outlets, Wallace-Woodworth caters to a wide range of consumer needs. One can easily find local outfits pumping new life in arts and crafts, while the local banks such as TD Bank and Royal Bank of Canada ensure financial services never run short.
Seasonal farmer's markets bring fresh produce directly from the farms to the tables of locals and visitors alike.
Transport & Connectivity
Although it is a rural municipality, Wallace-Woodworth has a well-established transport infrastructure. The Greyhound Transit and Brandon Air Shuttle provide public transport, and there are strategically placed transit hubs for local and long-distance connections.
The Virden/R.J. (Bob) Andrew Field Regional Aerodrome can handle private and charter flights, ensuring good air connectivity.
Sports Facilities
In terms of sports, Wallace-Woodworth provides ample opportunities for sports enthusiasts. The Virden Wellview Golf Club is a haven for golf lovers, while the Tundra Oil & Gas Place is a multi-purpose sports complex housing an ice hockey arena and curling rinks.
Traveler's Final Take
In summation, Wallace-Woodworth is a charming blend of rural simplicity and urban amenities. It offers a heartening glimpse into the myriad interactions of history, cultural diversity, and local community spirit that uniquely define this Canadian municipality. Whether it's relishing the vibrant art scene, exploring the serene landscapes, or enjoying the compelling sports activities, Wallace-Woodworth offers something for every traveler.
Must-Visit Spots in Wallace-Woodworth
Harvest Festival
Lemon Tree Art Gallery
Wallace District Arts Council
Elkhorn Library & Virden Library
Wallace District Museum
Assiniboine Valley
Moffat Park
Oak Lake Beach
Vert Ice Hockey Arena
TD Bank and Royal Bank of Canada
Virden/R.J. (Bob) Andrew Field Regional Aerodrome
Virden Wellview Golf Club
Tundra Oil & Gas Place