A Historical Landmark: The University of Ontario Institute of Technology
The University of Ontario Institute of Technology (UOIT), now known as Ontario Tech University, is a remarkable institution that represents a crucial part of Canada's higher education history. Opening its doors in 2003, it's one of the youngest and most dynamic universities in the country, demonstrating a unique evolution in the world of academia. Its establishment marks a significant milestone in Ontario's academic history, being the first new university the province welcomed in over four decades.
Given its relatively youthful age, one might argue about its historical significance. Yet, Ontario Tech University embodies the modern evolution of higher education. It exhibits a marked departure from the traditional university structure, championing technological advancement and innovation. It was the first university in Canada to provide a laptop-based learning environment, showcasing the University's commitment to pioneering educational technologies and staying at the forefront of teaching methods. This integration of technology into its curriculum put UOIT on the map and set it apart from other Canadian institutions.
Architectural Grandeur
The architectural presence of Ontario Tech University is a visual delight, reflecting an inventive fusion of modern aesthetics and functionality. The university's campus, situated in the heart of Oshawa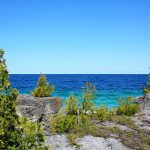 Oshawa Origins & Evolution Oshawa, translated as "the crossing place" or "where we must leave our canoes," is a city that traces its origins back to the late 18th century when a small group of settlers put down roots on the fertile land east of Toronto. The introduction of the Grand Trunk Railway in 1856 fuelled an era of dynamic..., features an array of imposing buildings, each with its own distinctive character.
The Campus Recreation and Wellness Centre, for instance, boasts an ultra-modern finish with glass expanses and intricate structures. Its contemporary design mirrors the University's modern approach to education. In contrast, the historic Regent Theatre showcases classic architecture, its vintage charm preserved even as the venue now hosts high-tech learning spaces. This symbiosis of old and new reflects the blend of tradition and innovation that is the core of the University's philosophy.
A World of Unique Experiences
Ontario Tech University offers more than an education; it delivers an experience. From the moment one steps onto the campus, the bustling energy, the diversity of students, and the genuine sense of community is palpable.
Students get to experience interactive and immersive learning, thanks to the University's commitment to technology. Outside of classes, a variety of cultural events, sports clubs, and student-led initiatives ensure there's always a way to engage with the campus community. Moreover, given its multicultural student body, an education at Ontario Tech University also implies a cultural enrichment, promising a well-rounded university experience.
Stepping into Ontario Tech's ambiance, it's clear why this esteemed institution is regarded as a national icon. Offering more than just cutting-edge education, the University is a testament to the dynamism and evolution of Canada's higher education sector. Its merging of tradition with innovation, reflected in both its academic programs and architectural aesthetics, ensure it stands out as a landmark worth visiting. Add the enriching experiences it holds for you, and Ontario Tech University becomes an unavoidable addition to your Canadian bucket list.