Baker Lake Origins & Evolution
While nestled in the heart of Canada, the unique geographical circumstance of Baker Lake affords it a distinct place in history. This hamlet, central to the country's Nunavut territory, traces its origins back to the Thule culture around 1000 A.D, followed by the modern Inuit civilization, which makes it a hub of Arctic history and anthropological interest. Mining operations triggered its modern development in the late 1950's, when the settlement, initially seasonal, transformed into a year-round community with increased infrastructure and population.
Although this small hamlet underwent changes in its structure and setup, it preserved its traditional roots and identity. In present times, Baker Lake is a perfect blend of the old with the new, integrating cutting-edge facilities, whilst expertly retaining its ancestral and cultural essence.
City's Geography & Demography
Baker Lake, known as the "Geographical Center of Canada," is located inland from Hudson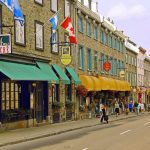 Hudson Origins & Evolution Hudson is a charming town nestled on the banks of the Ottawa River in Quebec. Founded in the late 19th century, it has seamlessly blended its historic charm with modern conveniences. Originally an Anglican farming community named Cavagnal, it rebranded as Hudson in the 1960s to reflect its British roots and to appease English-speaking residents. This... Bay and close to the mouth of the Thelon River. Its location contributes to a distinct subarctic climate with long, bitterly cold winters and short, cool summers. The environment presents remarkable experiences like Northern Lights and Midnight Sun.
The area is primarily inhabited by the Inuit population, highlighting their unique, centuries-old culture and traditions. The hamlet's population, though small, is welcoming and close-knit, offering a uniquely intimate perspective on life in one of the world's most extraordinary landscapes.
Cultural & Artistic Landscape in Baker Lake
Baker Lake is an epicentre of Inuit Art and Culture. The area's cultural wealth is perceived in the Jessie Oonark Centre, an art facility showcasing works of local artists particularly the vividly colored textile arts, and carvings. The Baker Lake Print Shop offers a glance at the local traditions skillfully depicted through prints and drawings.
Annual events such as the Toonik Tyme festival celebrate traditional Inuit games, dances, and delicacies while the Summer Arts Festival showcases artistic talent, thereby offering intriguing and heartwarming insights into the unique culture.
Educational & Research Facilities
Baker Lake hosts institutions such as the Jonah Amitnaaq Secondary School and Rachel Arngnammaktiq Elementary School. In terms of higher education, it is associated with Nunavut Arctic College, which offers community-centered Arctic-based learning. The Baker Lake Library further enriches individuals, providing resources that advance knowledge and cultural understanding.
Baker Lake's Highlights & Recreation
Baker Lake presents many natural landmarks and recreational spots to its visitors. The Sylvie Lake offers astounding vistas and is an excellent location for fishing. For hiking and camping enthusiasts, the Kazan River is ideal for its immaculate landscapes.
The local park around Thelon River attracts bird-watchers and nature enthusiasts with mesmerizing varieties of Arctic flora and fauna. Canada's tradition of dog sledging can be enjoyed to its fullest here, offering unforgettable experiences in the incredible wilderness.
Commerce & Conveniences
For a small hamlet, Baker Lake offers adequate commercial facilities. Multiple grocery stores, such as the Northern Store, cater to everyday necessities. Postal services, banking facilities, and even seasonal sales are also available to locals and travelers alike.
Transport & Connectivity
Baker Lake maintains excellent connectivity despite its remote location. The Baker Lake Airport serves as a crucial transit hub, offering flights to towns and cities in Nunavut. Within the town, taxi services provide easy travel, adding comfort and convenience.
Sports Facilities
In terms of sports, Baker Lake offers facilities for traditional Inuit games, ice hockey, basketball, and more, primarily through the community center. These sports facilities enhance the sense of community, act as a cultivator of talent, and provide a recreation avenue for residents and visitors.
Traveler's Final Take
A trip to Baker Lake offers much more than an insight into serene Arctic landscapes. It is a deep-dive into an incredible, richly preserved culture that has thrived resiliently while embracing the new. A travel experience here intertwines education, entertainment, and oversized natural beauty, culminating in an unforgettable journey to Canada's Arctic heartland.
Must-Visit Spots in Baker Lake
The Thelon River
The Sylvie Lake
Jessie Oonark Centre
Baker Lake Print Shop
Baker Lake Library
The Kazan River
Baker Lake Airport
Toonik Tyme Festival
Jonah Amitnaaq Secondary School