Brenda-Waskada Origins & Evolution
Brenda-Waskada, a relatively young municipality in the province of Manitoba, was officially formed in 2015 as the result of a merger of the municipalities of Brenda and Waskada. Its evolution traces back to the late 1800s when Canadian Pacific Railway established Waskada as a primary agricultural hub. This small farming community has nurtured some rich historical roots since its earliest days, reflecting its perseverance through the challenges of settler life. Famous for its oil production industry, Brenda-Waskada paints a portrait of a resilient community that's truly an ode to the spirit of its people and the endeavor towards economic development.
City's Geography & Demography
Nestled within the Anglophone Pembina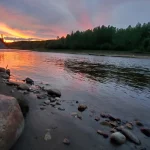 Pembina Origins & Evolution Pembina, a charming city situated on the Pembina River in Canada, has a rich and fascinating history. Founded in 1820, it was primarily a trading community serving the fur trade industry in its early days. The city grew steadily with the establishment of a railway line in the late 1800s, further solidifying its status as a... Valley Region of Manitoba, Brenda-Waskada's geography comprises largely of flat prairie landscapes perfumed with the scent of growing grain crops in warm seasons. With its semi-arid Pye's Landing climate, the city experiences long, cold winters and warm, humid summers. As of 2016, Brenda-Waskada has a modest yet vibrant community of approximately 600 residents. This predominately English-speaking population showcases an admirable camaraderie that binds the city, adding to its warm and welcoming ambiance.
Cultural & Artistic Landscape in Brenda-Waskada
Although a small town, Brenda-Waskada has a surprisingly colorful and dynamic cultural landscape. The annual Brenda-Waskada Fair is gutturally immerses one in local culture, highlighting local talent through live performances. The city is also home to the Waskada Museum, an institution preserving and displaying local history and artifacts. Moreover, the local community center frequently hosts art exhibitions, promoting local artists while fostering a love for the arts amidst the population.
Educational & Research Facilities
Education is important in Brenda-Waskada, as reflected by its excellent Waskada School, which handles students from kindergarten to grade 12. The school acts as a hub for community activities and imparts holistic education to local children. Furthermore, the region is served by the Western Manitoba Regional Library that is more than just a repository of books, offering computer centers and organizing cultural and social events as well.
Brenda-Waskada's Highlights & Recreation
For a small municipality, Brenda-Waskada boasts an impressive roster of recreational and natural attractions. Memorial Park and the Waskada Nature Preserve are perfect places for family outings and nature enthusiasts. The Salter's Lake makes for a scenic picnic spot while granting angling opportunities. Furthermore, the Waskada Athletic Club works towards providing ample initiatives for young sports-lovers in the community.
Commerce & Conveniences
Brenda-Waskada's Main Street is brimming with local businesses, banks, post offices, and restaurants. Local boutiques and seasonal farmers' markets provide a shopping experience truly unique to this small agrarian community. Moreover, the city takes pride in its local cuisines that are served piping hot in its cozy eateries.
Transport & Connectivity
Despite its small scale, Brenda-Waskada offers commendable public transport services. The intra-city bus services ensure the accessibility of every corner of the town. Moreover, it is conveniently located near the Killarney Airport, ensuring a smooth connectivity with the rest of the world.
Sports Facilities
While farming and oil-production are Brenda-Waskada's main industries, sports also play a significant role in the local community. The Waskada Athletic Club, with its state-of-the-art facility, nurtures local sporting talents in sports like hockey and figure skating.
Traveler's Final Take
Visiting Brenda-Waskada is a uniquely humbling experience. Here, you find a community that retains its rural charm whilst adapting to the 21st-century dynamics. With a profound sense of community and a heartwarmingly welcoming atmosphere, one always leaves Brenda-Waskada with treasured memories and a deeper appreciation for simple rural life.
Must-Visit Spots in Brenda-Waskada
Waskada Museum
Waskada School
Western Manitoba Regional Library
Memorial Park
Waskada Nature Preserve
Salter's Lake
Waskada Athletic Club
Killarney Airport
Brenda-Waskada Main Street shops and farmers' markets