Canmore Origins & Evolution
Canmore's history is a tapestry of human perseverance and elements of natural beauty. The city was founded in 1883, though it was originally unnamed and simply known for its location near the Canadian Pacific Railway. Named after Malcolm III of Scotland, whose nickname was "Canmore," the town's early years were rooted in coal mining. Over time, amidst the breathtaking landscapes of mountains, valleys, and forests, Canmore evolved into a gem of a town perched in the lap of nature.
As mining petered out, Canmore came to be recognized as an idyllic base for outdoor activities. It became internationally recognized after hosting the Nordic events during the 1988 Winter Olympics. Today, the town embodies a vibrant eco-tourism sector, boasting a unique blend of old-world charm and modern amenities.
City's Geography & Demography
Located in the Bow Valley, with the Canadian Rockies serving as a magnificent backdrop, Canmore offers stunning panoramas at every turn. The city experiences a subarctic climate, with chilly winters and moderately warm summers presenting a delightful weather contrast.
In terms of population, Canmore is home to approximately 14,000 residents, a diverse mix of outdoor enthusiasts, artists, and retirees. These numbers swell during peak tourist season, providing a vibrant and dynamic atmosphere to this charming town.
Cultural & Artistic Landscape in Canmore
Culture and arts thrive within Canmore, weaving a rich and textured social fabric. The town plays host to many notable events like Canmore Folk Music Festival and Canmore Highland Games. Moreover, the local arts scene is booming, with institutions like Canmore Art Guild and Crock A Doodle offering community-driven creative experiences.
Canmore also houses the Canmore Museum and Geoscience Centre, highlighting the town's history, and the Avens Gallery, showcasing the work of local artists. These diverse cultural elements shape a distinct identity – one that honors its roots yet embraces contemporary nuances.
Educational & Research Facilities
In the realm of education and research, the University of Alberta's Kananaskis Field Stations offer unique opportunities. For book enthusiasts, the Canmore Public Library is a treasure trove of resources.
Additionally, the Biosphere Institute of the Bow Valley conducts significant research that contributes to sustainable communities and environmental conservation within Canmore. These educational and research institutions augment the knowledge-based side of this adventurous town.
Canmore's Highlights & Recreation
Nestled amid pristine natural beauty, Canmore brims with opportunities for outdoor recreation. Notable landmarks such as the Three Sisters peaks add to the town's character.
Adventure seekers can explore the Grassi Lakes trails leading to awe-inspiring waterfalls. The Canmore Nordic Centre Provincial Park offers first-class cross-country skiing opportunities. And golfers would find solace in the Silvertip Resort or Canmore Golf and Curling Club.
The city's beautiful parks, coupled with the captivating Canmore Engine Bridge, make for charming leisure spots.
Commerce & Conveniences
While nature is a significant part of Canmore's identity, the town is well-equipped with urban conveniences too. The city's well-structured commercial district features a Taj Indian Restaurant, Canmore Wine Merchants and Stonewaters Home Elements for shopping. Banking services by the likes of TD Canada Trust and post offices are readily available. Moreover, Canmore hosts seasonal sales at Elevation Place and The Shops of Canmore, bringing together all types of shoppers.
Transport & Connectivity
Canmore's transport facilities ensure seamless connectivity. Roam Transit provides reliable public transport within the city. The city is also in close proximity to Calgary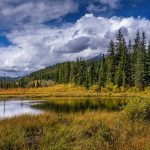 Calgary Origins & Evolution Calgary, located in the foothills of the Rocky Mountains of Alberta, Canada, has a rich and diverse history. Its name originates from a bay on the Isle of Mull, Scotland. It was officially founded as a town in 1884, and by the year 1891, it had elected its first mayor. The development of Calgary was primarily... International Airport, approximately 120 kilometers away. Additionally, Canmore is strategically located along the Trans-Canada Highway, ensuring efficient road travel.
Sports Facilities
Apart from the Canmore Nordic Centre, which caters to winter sports, Canmore offers facilities like the Elevation Place which houses a fitness center, climbing gym, and a pool. There is also the Canmore Recreation Centre, home to an arena, a curling rink, meeting rooms, and indoor soccer pitches. These facilities meld together, offering ample opportunities for sports and physical recreation.
Traveler's Final Take
In conclusion, the city of Canmore exhibits a symphony of natural beauty, human endeavour, and cultural richness. From its humble mining origins to a bustling eco-tourism hub, Canmore's progression is testimony to it continually harnessing its geographical advantage. It smartly juxtaposes its deep-rooted cultural heritage alongside commercial convenience, thus providing a balanced lifestyle. With its efficient transport network, robust sports facilities, and unique character shaped in the crucible of the Rockies, Canmore stands out as a must-visit Canadian gem.
Must-Visit Spots in Canmore:
Canmore Nordic Centre Provincial Park
Canmore Museum and Geoscience Centre
Three Sisters peaks
Grassi Lakes Trails
Canmore Art Guild
Avens Gallery
Silvertip Resort
Canmore Golf and Curling Club
Canmore Engine Bridge
Canmore Recreation Centre
Elevation Place
Stonewaters Home Elements