Clarenville Origins & Evolution
Established in the 1890s, the town of Clarenville, located in Newfoundland and Labrador, Canada, has grown and developed into an integral part of the province. Its location — nestled between a series of high hills and the waters of Random Sound and Clarenville harbour — made it an ideal spot for early settlers. The town's initial development revolved around industries such as lumbering, shipbuilding and later on, the Newfoundland Railway, which brought about an economic boom. What was once a small settlement evolved into a bustling service centre for surrounding communities.
Continual growth saw Clarenville gaining town status in 1951 and today, it offers a blend of historic charm coupled with modern amenities and facilities. The railway station, built in 1892, is one of the oldest buildings in Clarenville and provides a glimpse into the town's rich history.
City's Geography & Demography
Clarenville's geographic location is both unique and strategic, situated on the eastern shore of Newfoundland in the Shoal Harbour River valley. It experiences a subarctic climate with moderate summer temperatures and cold, snowy winters. This makes the region an ideal location for those who enjoy winter activities, such as snowshoeing and cross-country skiing.
As per recent census records, the town boasts a population of over 6,300 residents, a multicultural blend of ethnicities contributing to a rich, diverse fabric of the town's cultural composition.
Cultural & Artistic Landscape in Clarenville
The cultural landscape of Clarenville is diverse and vibrant. The annual Clarenville Winter Carnival, Farm and Market, and the Clarenville Days are all celebrated with great enthusiasm. The town's Eastlink Events Centre acts as a focal point for these events, in addition to hosting theatre productions and concerts.
Art enthusiasts will find interest in the Random Square Cultural Centre, home to local artists and their stunning creations. Moreover, the Garrick Theatre in nearby Bonavista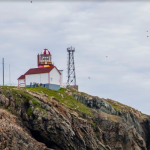 Bonavista Origins & Evolution Located on the island of Newfoundland in the province of Newfoundland and Labrador, Canada, Bonavista has a rich history dating back to the late 1400s. It was in 1497 that John Cabot supposedly made landfall here, marking the first European contact with North America since the Vikings. The community of Bonavista evolved as a prominent fishing... offers wonderful theatrical experiences and live performances for visitors and residents alike.
Educational & Research Facilities
Education in Clarenville is well-served by the Newfoundland and Labrador English School District, with the local Riverside Elementary School and Clarenville Middle School catering to the town's younger population. Clarenville High School and the College of the North Atlantic – Clarenville Campus assure continued academic and vocational education.
Additionally, the Dr. G.B. Cross Memorial Hospital, is not only a healthcare nucleus in the region, but also an important research and training hub, highlighting the town's commitment to healthcare and research.
Clarenville's Highlights & Recreation
Known as the 'hub of the east coast', Clarenville offers several outdoor recreational activities. The Terra Nova National Park, located a few kilometers from the town, offers breath-taking hiking trails, camping facilities, and a golf course. The Rotary Seaside Park, a great place for leisure walks, boasting a beautiful beach area and playground is another wonderful spot.
Not forgetting the "Our Ocean View Park", a great escape for nature lovers, offering beautiful ocean views and a gazebo sitting area.
Commerce & Conveniences
Clarenville is the primary commercial centre of Eastern Newfoundland with several departmental stores, a bustling farmers market and local boutique shops. The Shoal Harbour Drive area acts as the main commercial hub featuring larger stores, financial institutions and postal services.
Seasonal sales are quite popular in Clarenville, with several festivals like the Fall Fair and pre-Christmas sales boosting the local economy.
Transport & Connectivity
Clarenville is well-connected by road, being accessible by the Trans-Canada Highway. The town operates a regional airport, providing air transit to the neighbour islands and provinces.
Public transportation is not common, with most residents relying on private vehicles. However, the town offers taxi services and is connected by regional bus services to St. John's and other towns.
Sports Facilities
Clarenville is home to a number of sports facilities. The Clarenville Caribous, a senior ice hockey team, plays at the Eastlink Events Centre, a contemporary arena with seating for 2,200 spectators.
The White Hills Resort, recognized as one of the best ski resorts on the island, hosts an array of winter sports activities including skiing, snowboarding, A-frame cabin lodgings and dining options.
Traveler's Final Take
Steeped in history and blessed with stunning natural beauty, Clarenville offers a unique blend of rural charm and urban convenience. Whether it's exploring cultural events, enjoying recreational pursuits, shopping at the local markets, or relishing the delightful culinary scene, Clarenville is a town that invites and embraces everyone.
A compact yet comprehensive list encompassing all of the above, here is the "Must-Visit Spots in Clarenville":
– Clarenville Railway Station
– Eastlink Events Centre
– Random Square Cultural Centre
– Garrick Theatre, Bonavista
– Riverside Elementary School
– Clarenville Middle School
– Clarenville High School and College of North Atlantic Campus
– Dr. G.B. Cross Memorial Hospital
– Terra Nova National Park
– Rotary Seaside Park
– "Our Ocean View Park"
– Shoal Harbour Drive Area
– Clarenville Regional Airport
– Eastlink Events Centre (for Clarenville Caribous games)
– White Hills Resort.