Nain Origins & Evolution
Lying at the northernmost edge of Canada's Labrador region is the enchanting city of Nain. Originally established in 1771 as a Moravian mission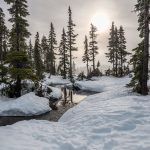 Mission Origins & Evolution Incorporated in 1892, Mission is a small, idyllic city in British Columbia, Canada. Its roots can be traced back to the establishment of St. Mary's Mission in 1861 by Father Fouquet. With abundant timberlands, the area started to develop significantly due to the forestry industry. The introduction of the Canadian Pacific Railway further fostered the city's... station, Nain is the oldest town in the vibrant province of Newfoundland and Labrador. Over the centuries, the town has developed and evolved, influenced by the ebb and flow of people, culture, and industry. Nestled within this historically significant landscape, Nain stands as a testament to the unyielding spirit of its Inuit ancestors, who have imbued the town with their deeply rooted cultural traditions.
Throughout its history, Nain has thrived primarily on fishing and hunting, owing to its geographical location. With the advent of modern technology and infrastructure, contemporary industries like tourism, construction, mining, and retail trade have begun to flourish, giving Nain a much-needed economic boost. Despite the inevitable transformations, Nain has managed to uphold its cultural authenticity, manifest in charming Inuit art, soul-stirring music, and fascinating folklore.
City's Geography & Demography
Nain lies in a dramatic setting along the eastern Canadian coastline, nestled amidst the formidable cliffs and rugged terrain of Labrador's northern coast, with the mighty North Atlantic Ocean lapping at its feet. The city's natural beauty is further enhanced by its climate, which is subarctic and lends the landscape a mysterious, other-worldly appeal throughout most of the year.
Demographically, Nain has a small, close-knit community of around 1,200 inhabitants, the majority of whom are Inuit. They are a warm, welcoming people who are proud of their flourishing Inuit culture and happy to share their intriguing heritage with curious visitors.
Cultural & Artistic Landscape in Nain
There's something inherently artistic about Nain. Home to the annual Nunatsiavut Assembly and the Moravian Christmas Concert—a time-honored tradition—Nain puts on delightful displays of Inuit culture annually. The city also houses the iconic Illusuak Cultural Centre, a stunning architectural marvel where visitors can explore the rich stories of the Labrador Inuit.
In addition, the renowned artists' retreat, the Torngat Arts and Crafts Centre, is a hive of creativity and community spirit, and an enduring symbol of Nain's cultural richness. From hand-sewn clothing to carved sculptures, the items crafted here beautifully echo the age-old traditions and unrivaled skills of Labrador Inuit.
Educational & Research Facilities
Despite its size, Nain hosts a number of educational facilities, including the Jens Haven Memorial School and the Nunavut Arctic College—the University of the Arctic member—that offers post-secondary education specifically tailored to the needs and aspirations of the Inuit population.
The town also boasts the Labrador Institute research station, a provincial resource for research, education, and outreach focused on the unique aspects of life in Labrador, signifying Nain's significant contribution to regional understanding and advancement.
Nain's Highlights & Recreation
Nain is brimming with natural beauty. Some must-see spots include the mesmerizing Pijitirjatjok Mountain, where hiking enthusiasts can revel in breathtaking panoramas, and the tranquil Nain Bay Park, an oasis of calm in the heart of the city.
Recreational activities are abundant and richly diverse—from cross-country skiing on sublime snow-covered trails to ice fishing and boating on the Trans-Labrador waterways. All offer visitors a genuinely immersive northern Canadian experience.
Commerce & Conveniences
At the heart of Nain's downtown area are quaint shops and general stores like Northern and Ivalu, providing all the usual conveniences and several locally sourced products. A bit further along is the Post Office, which proudly bears a mural depicting a historical scene of the town. And while Nain doesn't have a conventional banking institution, a credit union provides banking services to the locals and visitors.
Transport & Connectivity
Given its geographical location and rugged terrain, Nain relies heavily on air transport. The Nain Airport provides regular regional flights, while charter flights and air taxis link the town to other parts of Newfoundland and Labrador.
Yet, the city's true charm lies in its unconventional transport system. Snowmobile and dog sledding are the principal modes of transport in winter, and boats in the summer, offering a uniquely thrilling way to explore this coastal town.
Sports Facilities
For a town so rooted in tradition and nature, it's no surprise that the sports facilities in Nain often reflect this ethos. Although it doesn't have large arenas or professional teams, the city has a recreation centre that offers a wide range of activities and sports, from soccer and floor hockey to volleyball and badminton.
Traveler's Final Take
In the end, Nain, with its stark landscapes and amidst all its simplicity, graciously offers a poignant insight into the thriving Inuit culture and the intimate relationship between people and nature. Exploring this city, visitors will inevitably be left with a deeper understanding and appreciation of Canada's northernmost wonders.
Must-Visit Spots in Nain:
Moravian Christmas Concert
Illusuak Cultural Centre
Torngat Arts and Crafts Centre
Jens Haven Memorial School
Nunavut Arctic College
Pijitirjatjok Mountain
Nain Bay Park
Nain Airport
Local Shops and Ivalu
Nain Recreation Centre