Saint-Hyacinthe Origins & Evolution
Saint-Hyacinthe, often regarded as a well-kept secret in the Quebec region of Canada, takes pride in its historical richness and dynamism. Officially founded in 1849, Saint-Hyacinthe began as a humble settlement intensely tied to an agrarian economy. The city was named after Saint Hyacinthus, a notable figure in Roman Catholic and Eastern Orthodox traditions, whose spirit of resolute service reflects the enduring people of Saint-Hyacinthe.
Over the decades, the city evolved into a buzzing urban setting, serving as a major industrial player and agricultural hub in Canada with a strong commitment to sustainable development. The inauguration of rail services in the mid-19th century facilitated the city's rapid growth and provided a foundation for Saint-Hyacinthe's industrial atmosphere, including textile and food industries.
City's Geography & Demography
Located along the Yamaska River, Saint-Hyacinthe boasts a serene yet lively geographical setting. The topography lays a beautiful blend of urban neatness and rural tranquillity. Abundant with greenery, the city's panorama also overlooks several small islands in the river.
Appreciated for its moderate climate, Saint-Hyacinthe experiences warm summers and chilling winters, ideal for those who appreciate seasonal changes. As of recent figures, the city houses more than 56,000 inhabitants, flaunting a mélange of French-speaking majority with a sprinkle of diverse cultures.
Cultural & Artistic Landscape in Saint-Hyacinthe
Saint-Hyacinthe is a treasure trove for cultural enthusiasts. The city's cultural landscape comes alive through numerous events, theaters, museums, and galleries. Agora des Arts, housed within former church premises, constitutes a cultural epicenter, offering vibrant performances and presentations.
Art lovers may revel at the Centre des arts Juliette-Lassonde, a modern facility hosting a vast array of artistic displays. L'Espace RONA and L'Espace famille are theatres that provide a platform for music, dance, and theatrical performances.
Educational & Research Facilities
The pursuit of knowledge is a strong ethos within Saint-Hyacinthe, bolstered by the city's commitment to higher education and research. The Université de Montréal's Faculté de Médecine Vétérinaire, amongst the largest veterinary colleges in North America, and the prominent research-intensive Centre de recherche sur les biotechnologies marines, underline the city's educational prowess.
Public libraries such as Bibliothèque T.-A.-St-Germain and Bibliothèque Sainte-Rosalie offer a vast collection of resources, creating an intellectual atmosphere within the city.
Saint-Hyacinthe's Highlights & Recreation
Despite its urban flair, Saint-Hyacinthe remains rooted in its natural beauty. Numerous parks, including Parc Les Salines, a popular attraction, provides hiking trails, picnic spots, a large playground, and cross-country skiing in the winters. Douglas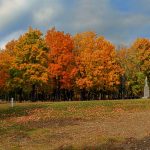 Douglas Origins & Evolution Tucked away in Ontario, Canada, Douglas is an intimate rural community steeped with rich heritage and intriguing historical narratives. It was first established in the mid-1800s with significant influence from Irish immigrants, giving the settlement a unique character. Douglas, even till today, retains the individuality of its inception through physical reminders such as historic buildings and... Beach, a hidden gem, offers a welcoming space for spending warm summer days.
Historically significant landmarks, including the iconic Saint-Hyacinthe Cathedral, with its stunning stained glasswork, offer yeasty characters of the city's past and present.
Commerce & Conveniences
Saint-Hyacinthe offers an array of commercial amenities. From boutique shops like PetitCoulou and Rossy to large retail centers like Galeries Saint-Hyacinthe, shopping is a delight in the city. Essential services – banks, postal services, and seasonal farmers markets – contribute to the city's convenient city life.
Transport & Connectivity
Saint-Hyacinthe is effectively connected through several modes of transport. Public transport managed by CITVR ensures smooth intra-city transit. The city's railway station connects major towns and cities, while Montérégie's Autoroute 20 feeds into the city's road network. For air travel, Montréal–Pierre Elliott Trudeau International Airport is the nearest major airport.
Sports Facilities
Saint-Hyacinthe takes sports and fitness earnestly. The region is dotted with sporting facilities, where Stade L.P. Gaucher stands out as the primary venue for football and soccer matches. Complexe aquatique Desjardins serves as a prominent wellness center, housing an Olympic-size swimming pool, a therapeutic pool, and a gymnasium.
Traveler's Final Take
Saint-Hyacinthe masterfully blends its rustic charm with modern sophistication. Its rich history, friendly locals, bustling markets, serene parks, stimulating educational institutions, vibrant cultural spaces, and easy-going lifestyle make it a must-visit destination in Quebec.
Must-Visit Spots in Saint-Hyacinthe:
1. Agora des Arts
2. Centre des arts Juliette-Lassonde
3. L'Espace RONA
4. L'Espace famille
5. Université de Montréal's Faculté de Médecine Vétérinaire
6. Centre de recherche sur les biotechnologies marines
7. Bibliothèque T.-A.-St-Germain
8. Bibliothèque Sainte-Rosalie
9. Parc Les Salines
10. Douglas Beach
11. Saint-Hyacinthe Cathedral
12. PetitCoulou
13. Rossy
14. Galeries Saint-Hyacinthe
15. CITVR Transport network
16. Stade L.P. Gaucher
17. Complexe aquatique Desjardins
18. Montérégie's Autoroute 20
19. Montréal–Pierre Elliott Trudeau International Airport.