Three Hills Origins & Evolution
Three Hills, in Canada, is a town that melds the cozy, nostalgic appeal of small-town life with the vibrancy of modern existence. Its origins are deeply rooted in the late 19th century when three highly visible hills became distinctive landmarks leading to the naming of the town. It was officially incorporated as a village in 1912, and later on May 1, 1929, it was recognized as a town. Over time, Three Hills developed mining and agricultural industries that attracted settlers and boosted its economy. Now, Three Hills may not have the skyscrapers found in bustling cities, but its rich history is reflected in its many heritage buildings, adding to its unique charm.
City's Geography & Demography
Geographically, Three Hills is situated in the central region of Alberta, Canada, in Kneehill County. It is approximately 140 kilometers northeast of Calgary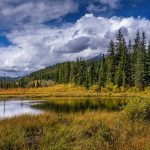 Calgary Origins & Evolution Calgary, located in the foothills of the Rocky Mountains of Alberta, Canada, has a rich and diverse history. Its name originates from a bay on the Isle of Mull, Scotland. It was officially founded as a town in 1884, and by the year 1891, it had elected its first mayor. The development of Calgary was primarily..., providing connectivity to the bustling commercial hub of the nation. Three Hills' climate is defined as humid continental, with distinct seasons encompassing hot summers and long, chilly winters. The municipality has a diverse population, currently estimated at over 3,200, offering a welcoming and inclusive environment to all residents and visitors.
Cultural & Artistic Landscape in Three Hills
Three Hills boasts an impressive cultural scene, full of vibrant arts and meaningful traditions. A highlight is the annual Three Hills Summer Celebration, which features a parade, guided walks, and vehicle shows. The town is also known for its Pryce Memorial Park, which hosts outdoor concerts. When it comes to museums, the Three Hills History Book Museum keeps the town's history alive. As for theatres and galleries, the Three Hills Arts Academy offers a varied and exciting schedule of performances and exhibitions showcasing local talents.
Educational & Research Facilities
Three Hills is a vibrant educational hub with a noteworthy post-secondary institution, Prairie College. Known formerly as Prairie Bible Institute, the private institution offers a variety of programs ranging from music to aviation. The Dr. Elliott School/Linden library is an asset to the community that encourages and enables literacy and learning in Three Hills.
Three Hills's Highlights & Recreation
Anyone visiting Three Hills will find a handful of attractions to explore, like Anderson Park, an expansive playground with equipment for all ages and picnic areas. The town also has trails perfect for biking, hiking, and bird-watching, while Keiver's Lake Campground is a favorite spot for camping enthusiasts. Guzoo Animal Farm, a private zoo, adds to the recreational options available to locals and guests.
Commerce & Conveniences
Small yet comprehensive, shopping in Three Hills brings together a mix of locally owned specialty shops, like Home Hardware, and grocery stores, such as the IGA. Financial services are widely offered through banks including ATB Financial and TD Canada Trust. The town's post office promptly fulfills the community's postal needs.
Transport & Connectivity
Given its location, Three Hills is well-served by Highway 21, which provides smooth road connectivity. Public transit within the town is limited, but the Three Hills Airstrip facilitates the connectivity to different cities. For the residents, it offers the convenience of private and charter aviation services.
Sports Facilities
The town is home to The Three Hills Golf Club, which presents a challenging nine-hole course. The Curling Rink is a popular spot for sports enthusiasts during the winters. The Three Hills School Sports Fields also hosts various sports like football and track events, promoting athleticism and sportsmanship among youth.
Traveler's Final Take
Three Hills, with its rich history, cultural vibrancy, and comfortable lifestyle, offers an experience unlike any other. The town is a perfect blend of tranquility associated with small-town living mingled with the facilities typically available in larger cities. Whether you're a history buff, an outdoor adventure lover, or a peace-seeking traveler, Three Hills has something for everyone.
Must-Visit Spots in Three Hills
Three Hills Summer Celebration
Pryce Memorial Park
Three Hills History Book Museum
Three Hills Arts Academy
Prairie College
Dr. Elliott School/Linden Library
Anderson Park
Keiver's Lake Campground
Guzoo Animal Farm
Home Hardware
Three Hills Airstrip
Three Hills Golf Club
Three Hills Curling Rink
Three Hills School Sports Fields