The Iconic Symbol of Canadian Pride: West Edmonton Mall
Nestled in the heart of Canada's Festival City lies the quintessential symbol of Canadian pride and ingenuity: the West Edmonton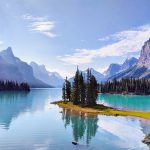 Edmonton Origins & Evolution Located on the North Saskatchewan River in Alberta, Canada, Edmonton is a city with a rich Native history dating back thousands of years to the indigenous tribes that once inhabited the region. European settlers arrived in the late 18th century, starting with the Hudson's Bay Company in 1795. They established Edmonton as a key trading post... Mall. This modern marvel does not simply house a plethora of retail stores; it's a veritable microcosm of Canada's diversity, a testament to architectural splendor, and, above all else, an unrivalled destination for world-class entertainment. From awe-inspiring attractions to over 800 diverse shops and services, this iconic landmark stands as a beacon of Canadian spirit and culture.
Opened in September 1981, West Edmonton Mall, enveloped by the bustling city of Edmonton, Alberta, quickly commanded global attention. It garnered the esteemed title of the world's largest mall, an accolade it held for two decades. While it may no longer hold this global distinction, it remains the largest shopping mall in North America, with a size spanning over 5.3 million square feet, equivalent to 48 city blocks. This monumental complex is more than just a mall; it's become a pivotal part of Canadian history, redefining the country's retail landscape, and serving as a hub of community, culture, and commerce.
Architectural Grandeur & Distinctive Features
Step into the grandeur of West Edmonton Mall, and you'll immediately be greeted by an array of architectural wonders that are as diverse as they are spectacular. The mall houses a stunning replica of Europe's majestic boulevards, named Europa Boulevard, complete with cobblestone walkways and authentic recreations of European architecture. That's not all, the mall is also home to the iconic Chinatown, an alluring testament to the rich, vibrant Chinese culture. Each facade, each corner of the mall, is a reflection of architectural brilliance, blending traditional aesthetics with modern, functional design.
The mall isn't just about spectacular design; its features and attractions are equally noteworthy. How about a full-scale indoor amusement park? Welcome to Galaxyland, the world's largest indoor amusement park, which boasts over 27 thrilling rides and attractions. Feel like cooling off? Dive into World Waterpark, North America's largest indoor water park featuring a massive wave pool, thrilling slides and a hot tub for relaxation. From an indoor lake (yes, you read that right) with a full-size replica of Christopher Columbus's Santa Maria to an exotic indoor zoo, an ice rink, and even an 18-hole miniature golf course, West Edmonton Mall offers a multitude of experiences under one roof.
The One-Stop Destination for Unforgettable Experiences
What sets West Edmonton Mall apart from other shopping centers is the unparalleled experiences it offers. More than just a shopping destination, it's an entertainment powerhouse, inviting millions of visitors annually to partake in its multitude of attractions. Whether you're seeking an adrenaline rush from the rides at Galaxyland, basking in the aquatic splendor of Marine Life, or enjoying a starlit stroll along Europa Boulevard, the mall offers something for everyone. Each visit promises a new discovery, a unique experience, and memories that will last a lifetime.
From epic shopping sprees to wonderful dining experiences and beyond, West Edmonton Mall guarantees that there's always something new to explore. A host of world-class restaurants, spacious event halls, luxurious theatres, and nightclubs offer endless entertainment opportunities. Additionally, with two hotels within its complex, it serves as the ultimate holiday destination, where you can shop, dine, play, and stay without ever having to step outside.
The West Edmonton Mall is not just a retail delight, it's a cornerstone of Canadian history and a testament to architectural prowess. It's a celebration of diversity and a living, breathing epicentre of entertainment. Few places around the world offer such a comprehensive blend of retail, dining, and entertainment in such an awe-inspiring setting. This iconic landmark is a story, a journey, an adventure waiting to happen. So, whether you're a history buff, an architecture enthusiast, or an adventure seeker, West Edmonton Mall offers an immersive experience that's truly unique to Canada. Don't miss the chance to partake in this real-life fairytale; instead, make it a central highlight in your Canadian odyssey.