Kingsville Origins & Evolution
Founded in 1852 and incorporated in 1901, Kingsville stands as one of the oldest communities in Essex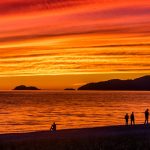 Essex Origins & Evolution Essex, a captivating city located in the heart of Ontario, Canada, boasts a rich and transformative history dating back to its founding in 1792 by French and British settlers. With a strategic location near Detroit River and the great lakes, Essex became a beacon of agriculture, industry, and commerce. Over several centuries, Essex's evolution was potent,... County, preserved in time to offer a saga of Canadian heritage. Rooted in the agricultural, fishing and canning sectors, the town bloomed from Marquette & Besse's fishing communities. Today, it has evolved into a charismatic vacation spot renowned for its hospitality, quaint charm, antique shops, and beautiful wineries.
Kingsville owes its distinctive growth and allure to its location by Lake Erie, nurturing a fertile soil conducive to grape-growing and winemaking. This resulted in the establishment of Canada's southernmost winery, Pelee Island Winery. The influence of this industry persisted, serving as a lifeblood of the local economy and promoting the development of the city as a culinary and cultural hub.
City's Geography & Demography
Located in Southwestern Ontario on the north shore of Lake Erie, Kingsville features a moderate climate, fertile soil, and a mesmerizing waterfront view. Its strategic geographical position gives it a temperate climate, ideal for outdoor activities all year round. Kingsville also treasures seasonal natural spectacles with its vibrant fall-colored landscapes and beguiling snowy vistas in winter.
Kingsville is home to nearly 22000 people, earning it the title of Essex County's second most populated municipality. It's a blend of various ethnic, linguistic, religious, and age groups, adding to the city's cultural richness and diversity.
Cultural & Artistic Landscape in Kingsville
Kingsville flaunts a robust cultural scene, hosting signature events such as the Kingsville Folk Music Festival, Migration Festival, and Fantasy of Lights Festival. These annual events offer unique experiences (music, art, local cuisines), acting as a delight for the cultural enthusiast and the regular traveller alike.
The town also prides itself on local museums like the Canadian Transportation Museum & Heritage Village and Pelee Island Heritage Centre, which display vintage transportation modes and local ecology conservations.
Educational & Research Facilities
The local community is served by the Greater Essex County District School Board and Windsor-Essex Catholic District School Board, sufficing the educational needs.
A crucial pillar of research, the Jack Miner Bird Sanctuary, offers bird banding, conservation, habitat preservation, and migratory research. Kingsville takes pride in it being the migratory bird stopover site.
Kingsville's Highlights & Recreation
Serene parklands and beautiful landmarks are the two hallmarks of Kingsville. It hosts the stunning Lakeside Park, Cedar Island Yacht Club, and Kingsville Historical Park. They offer nature trails, beachfronts, picnic spots, and children play areas.
Kingsville is home to Pelee Island Winery, offering acclaimed wine tastings and picturesque vineyards. The downtown Kingsville encapsulates the magnetic charm with its beautiful heritage Victorian buildings and delightful dining experiences.
Commerce & Conveniences
Kingsville offers a host of independent local stores and boutiques brimming with unique collections and artisan products. It provides convenient banking, post office services and its seasonal farmers' markets, vintage shops give a wholesome shopping experience.
Don't miss out on Kingsville's seasonal sales, especially in the quaint shops along the Main Street, featuring local goods, antiques, and gourmet treats.
Transport & Connectivity
Kingsville is conveniently connected via Highway 3, linking to other Ontario cities. For local connectivity, public transit services are available. The Kingsville Municipal Airport eases the travel experience for incoming visitors.
Sports Facilities
The town has quite an array of sports centres, including the Kingsville Arena Complex and the Kingsville Recreation Complex, which houses indoor pools, ice rinks, baseball diamonds, and more, nurturing a vibrant sports culture.
Traveler's Final Take
All in all, Kingsville is a unique gem in the heart of Essex County. Its rich history, natural beauty, cultural flavours, and convenient facilities make it a must-visit spot for those seeking an enchanting small-town experience. It offers a unique conflation of the rustic and the refined, the historical and the contemporary, the tranquil and the vibrant.
Must-Visit Spots in Kingsville
Pelee Island Winery
Canadian Transportation Museum & Heritage Village
Pelee Island Heritage Centre
Jack Miner Bird Sanctuary
Lakeside Park
Cedar Island Yacht Club
Kingsville Historical Park
Kingsville Municipal Airport
Kingsville Arena Complex
Kingsville Recreation Complex