Lamèque Origins & Evolution
The city of Lamèque, located in the northeastern part of New Brunswick, owes its history and origin to the Mi'kmaq Indians who first inhabited the region. Named after the Mi'kmaq word meaning "place where there is plenty of Alders," Lamèque stands out as a testimony to indigenous heritage and European settlement. The area was primarily settled by the French-speaking Acadians in 1756 who were escaping the Great Deportation. Over the years, it has morphed from a shelter for Acadians into a bustling and vibrant community. The city has developed significantly, though the fishing industry remains the backbone of the town's economy.
City's Geography & Demography
Lamèque sits gracefully on the Lamèque island, in the region of Acadie-Bathurst, and is part of the province of New Brunswick, Canada. This city is shielded from harsh Atlantic storms by the narrow Pokesudie Island providing it with a relatively moderate oceanic climate. It is home to an estimated 1,300 people, most with Acadian roots. This gives the region a strong sense of cultural identity, which is reflected in its vibrant festivals and colorful houses.
Cultural & Artistic Landscape in Lamèque
The culture of Lamèque is expressed profoundly through its events and institutions. The city is renowned for its annual Lamèque International Baroque Music Festival, attracting visitors from around the globe who come to delight in the music of the 18th century. The city possesses an enviable artistic landscape evident in the Lamèque Eco-Museum of the Acadian Peninsula, which documents the history of the area and also houses a vibrant display of local art.
Educational & Research Facilities
Lamèque is home to numerous educational facilities, including the respected École Sainte-Cécile. Further proving the city's commitment to knowledge and research is the Lamèque Experimental Farm, a marine research institute that continues to perform valuable work in sustainable aquaculture.
Lamèque's Highlights & Recreation
The city boasts plenty of recreational spots and spectacular landmarks. The Pointe-Alexandre lighthouse, a majestic beacon by the sea, is a historical emblem of the city. As for nature lovers, the Miscou Island offers a plethora of natural parks, beautiful sandy beaches, and scenic hiking trails perfect for outdoor activities.
Commerce & Conveniences
Laméque offers a balance of commercial conveniences with the charm of a small town. The local shops sell handcrafted products and Acadian specialities. The city's seasonal farmers' market is a notable draw, featuring fresh seafood, produce, and locally made artisan goods. Banking, postal services and all other amenities are conveniently available within the city.
Transport & Connectivity
Transport in Lamèque is accessible and well-planned, offering both reliability and convenience. The city does not have an airport of its own, but it is within a reasonable driving distance from Bathurst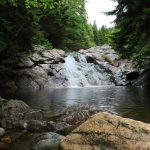 Bathurst Origins & Evolution Located in Eastern Canada, bathed by the Chaleur Bay waters, Bathurst is a picturesque city with a rich history. Founded in 1826, Bathurst evolved from a colonial dominion into a dynamic, multifaceted city. It initially thrived on shipbuilding and later immersed itself in railway and mining industries. Present day Bathurst, while maintaining the vestiges of its... Airport. There's also a well-organized network of highways and buses facilitating easy travel to and from the city.
Sports Facilities
In terms of sports facilities, Lamèque has a stadium and various sporting centers that cater to the needs of sports enthusiasts. The complex sportif arena in particular, is a favorite destination for winter sports.
Traveler's Final Take
In conclusion, Laméque combines rich history, vibrant culture, and a wide range of facilities that make it an attractive destination. Whether it's immersing oneself in the local art scene, enjoying nature's beauty, indulging in fresh seafood, or participating in winter sports, this city has something for everyone.
Must-Visit Spots in Lamèque
– Lamèque International Baroque Music Festival
– Lamèque Eco-Museum of the Acadian Peninsula
– École Sainte-Cécile
– Lamèque Experimental Farm
– Pointe-Alexandre Lighthouse
– Miscou Island
– Lamèque Farmers' Market
– Complex Sportif Arena
– Bathurst Airport