The Historical Significance of Oshawa Centre
Nestled in the heart of Oshawa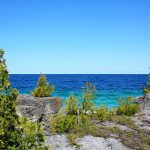 Oshawa Origins & Evolution Oshawa, translated as "the crossing place" or "where we must leave our canoes," is a city that traces its origins back to the late 18th century when a small group of settlers put down roots on the fertile land east of Toronto. The introduction of the Grand Trunk Railway in 1856 fuelled an era of dynamic..., Ontario, Oshawa Centre stands as a testament to the city's rich history and cultural significance. Originally opened in 1956 as a modest open-air shopping plaza, it has since transformed into a vibrant enclosed shopping destination, beloved by locals and visitors alike. Throughout its history, Oshawa Centre has witnessed the evolution of Oshawa, from its days of prospering automotive manufacturing to the vibrant, diverse city it is today.
Over the years, Oshawa Centre has become not only a destination for shopping but a hub for social interaction and community gatherings. Many generations have fond memories of spending weekends strolling through its halls, trying on clothes, savoring delicious meals at its diverse range of eateries, and immersing themselves in the lively atmosphere. Oshawa Centre has not only kept pace with the changing times but has consistently strived to anticipate the needs and desires of its visitors, making it a beloved landmark that holds a special place in the hearts of Oshawans.
Architectural Beauty that Leaves an Impression
As visitors step foot into Oshawa Centre, they are immediately captivated by its stunning architecture. Its sleek and modern design seamlessly blends with the historical elements, creating a unique and visually appealing environment. The grand entrance, with its soaring glass ceilings, floods the space with natural light, making every visit an inviting and uplifting experience.
Beyond its architectural beauty, Oshawa Centre boasts an impressive array of over 230 stores, ensuring an unparalleled shopping experience. Whether visitors are looking for the latest fashion trends, high-end luxury brands, or seeking unique local vendors, Oshawa Centre has it all. Its well-designed layout and spacious walkways make navigating the centre a breeze, providing an immersive and enjoyable shopping experience.
An Experience Like No Other
A visit to Oshawa Centre promises an experience that goes beyond retail therapy. Its diverse range of amenities caters to people of all ages and interests. From state-of-the-art cinema theatres to exciting live events and captivating art installations, there is always something to delight and engage every visitor. The centre also offers a wide selection of dining options, allowing visitors to savor a variety of cuisines and indulge in culinary delights.
For those seeking relaxation or a break from the shopping frenzy, Oshawa Centre boasts beautiful outdoor spaces and cozy seating areas that provide a tranquil escape. Visitors can recharge amidst carefully maintained gardens and take in the beauty of their surroundings, making it a perfect spot to unwind and reflect.
Oshawa Centre embodies the true spirit of Oshawa, paying homage to its past while continuously reinventing itself for the future. The journey through its corridors is not merely about shopping but about immersing oneself in the essence of a city and its vibrant community. With its historical significance, architectural beauty, and unique experiences, Oshawa Centre is undoubtedly a must-visit destination for anyone looking to create unforgettable memories in Canada.