Piney Origins & Evolution
Steeped in rich historical charm and Canadian heritage, the rural municipality of Piney, nestled in the southeastern part of Manitoba Province, was incorporated in 1907. Its name originates from its wooded surroundings dense with Eastern White Pine trees that paint a picturesque landscape for its residents and visitors alike. Over time, the township has elegantly preserved its historic roots while steadily evolving to cater to modern needs and amenities.
Although Piney doesn't flaunt grand architectural edifices, it is home to a myriad of rustic homesteads and agricultural establishments that echo its agrarian origins. Since its inception, although Piney has witnessed fluctuations in its growth graph due to economic and socio-political dynamics, it has persistently maintained its quintessential charm and simplicity that continue to enthrall settlers and tourists alike.
City's Geography & Demography
Sprawled across a large area of over 2,300 square kilometers, Piney is located just 120 kilometers southeast of Winnipeg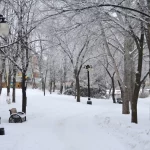 Winnipeg Origins & Evolution Known as the "Gateway to the West," Winnipeg, Manitoba's capital city, was originally settled by Indigenous peoples and later became a fur-trading post for the Hudson's Bay Company in the late 18th century. Officially incorporated as a city in 1873, Winnipeg quickly became a bustling railway hub due to its strategic location at the confluence of..., surrounded by pristine forests and tucked away from bustling metropolises. The climate in Piney is characterized by warm summers and very cold winters. Its unique location provides it with a rich and diverse fauna and flora.
The municipality houses a small population of around 1,700 residents that fosters a close-knit community atmosphere. The majority ethnic group recorded is British Isles, closely followed by Ukrainian descent residents. This diversity is reflected in the cultural mix and heritage of the municipality.
Cultural & Artistic Landscape in Piney
Piney, despite its small populace, boasts a vibrant cultural and artistic milieu. The Piney Community Center stands as the cultural heartland where annual community events, fairs, and festivals are organized that imbibe the essence of Piney's heritage.
While Piney does not boast large museums or galleries, local artisans and craftspeople showcase their work at these events, making it an excellent platform to witness and purchase unique artwork. The Christmas Bazaar held in November and the Canada Day celebrations in July are especially popular.
Educational & Research Facilities
Functional, efficient, and focused on local needs, Piney's educational infrastructure is centered around Sprague Consolidated School. This well-regarded school serves students from Kindergarten through grade twelve and incorporates vocational training to cater to agricultural and rural activities required in the area.
Although the area lacks large research institutions or libraries of its own, residents often rely on the broader Manitoba library network for accessing a vast range of books, research journals, and informative resources.
Piney's Highlights & Recreation
A haven for outdoor lovers, Piney boasts various engaging recreational fixtures. The Sandilands Provincial Forest with its cross-country skiing trails, the lush Moose Lake, and Piney Pinecreek Border Airport are local hotspots for nature lovers and adventure seekers.
Moreover, the town takes immense pride in its community parks accentuated by well-maintained playgrounds, picnic areas, and walking trails. The much-loved Piney Fall Supper marks the advent of autumn with warm communal dinners and festivities.
Commerce & Conveniences
Small local stores, bakeries, and eateries are interspersed throughout Piney, offering convenient everyday shopping options. Banks and postal services are limited but functional, with occasional seasonal flea markets and yard sales adding lively character to the peaceful district.
Although large shopping malls are a miss, numerous farm stands and local markets offer an array of fresh produce, baked goods, handmade crafts, and other local products. This adds a special charm to the convenience and commerce scenario in Piney.
Transport & Connectivity
Piney is connected to the rest of the region via highway 89. Public transportation is not very prevalent, hence private vehicles or community-organized transportation for events is the norm. The Piney Pinecreek Border Airport provides aviation needs for private and charter flights, offering connectivity for both local community and tourists.
Sports Facilities
Sports enthusiasts can find respite in Piney's local sports clubs and arenas that organize summer baseball and winter snowmobile races. Recreational fishing and hunting are also popular in the surrounding areas. These local sports events spark community spirit and cohesion.
Traveler's Final Take
Endowed with a serene countryside charm, Piney provides a tranquil yet enriching experience encapsulating a rustic allure, serene natural beauty, and spirited community ethos. Its simplicity and strong sense of community warmth cater to its distinctive appeal as a peaceful Canadian heartland.
Must-Visit Spots in Piney:
– Piney Community Center
– Sandilands Provincial Forest
– Moose Lake
– Piney Pinecreek Border Airport
– The local parks and playgrounds in the town
– Annual Piney Fall Supper
– Local stores and farmer's markets
– Sports clubs and arenas