Stanley Origins & Evolution
Stanley is a quaint town situated in New Brunswick, Canada. Named after Lord Stanley, the 14th Earl of Derby who later became the Prime Minister of the United Kingdom, the town has a rich historical background. It was established in the late 1830s as a forestry area and was valued for its abundance in timber resources. Stanley gradually evolved into a mining town with the discovery of antimony, a key resource used in the manufacturing industry. It has since become a hub of industrial activity and is steadily growing and modernising, while retaining its historical roots.
Throughout the years, Stanley has nurtured its heritage and traditions which are still evident today. Its architecture, particularly in the older parts of the town, reveals an intriguing blend of Victorian and Edwardian styles. Local festivities, such as the annual Stanley Fall Fair, uphold the town's traditions, uniting locals and tourists alike.
City's Geography & Demography
Stanley is located in the undulating landscape of New Brunswick, flanked by the Nashwaak River. The city is characterized by its scenic beauty enriched with lush green forests and stunning river views. Stanley enjoys a humid continental climate with warm summers, snowy winters and a colorful fall, which creates a striking backdrop for many outdoor activities.
As per the latest Census, Stanley boasts a population of slightly over 400, offering a close-knit community experience. The demographics are diverse, presenting an inclusive atmosphere that is welcoming to all newcomers, thus adding to the town's unique character.
Cultural & Artistic Landscape in Stanley
Stanley's historical origins and evolving development have led to a rich cultural scene. The town annually hosts the Stanley Fall Fair, a celebrated event filled with family-friendly activities like tractor-pulls, horse races and local arts & crafts—all displaying the town's homely and warm spirit.
Stanley is also artistically inclined with spaces such as the Stanley Bridge Studios & Gallery. Housing authentic, local art pieces, it offers the chance to explore New Brunswick's craftsmanship up close. Performances by local theatre groups, like Theatre New Brunswick, depict local folklore and history, providing an interesting insight into the culture of Stanley.
Educational & Research Facilities
Stanley is served by institutions like Stanley Consolidated School, which offers education from kindergarten to grade 12. For research, the Stanley Public Library provides a quiet place for learning, reading, and community engagement. The library also hosts several educational events throughout the year, encouraging community learning and fostering a love for literature amongst residents.
Stanley's Highlights & Recreation
Scenic spots in Stanley provide splendid recreational opportunities. The Mactaquac Provincial Park offers hiking trails, picnic spots, and an opportunity to explore the local flora and fauna—it's a must-visit for nature enthusiasts. Stanley also houses several landmarks, like the Sexton Covered Bridge, a piece of architectural brilliance constructed in 1900, offering a glimpse into the town's past.
Commerce & Conveniences
Stanley avails a wide range of convenience facilities—including shops, banks, and postal services—all within a short reach. The town center bustles with local boutiques, handcraft shops, and well-stocked grocery stores. Banks and ATM services contribute to the smooth running of local commerce. The Stanley Post Office, operating since the 19th century, provides reliable postal services to the community.
Transport & Connectivity
Getting around Stanley is easy thanks to its efficient transportation network. Public buses connect all major areas of the town. For long distance travel, the Fredericton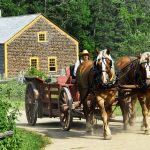 Fredericton Origins & Evolution Fredericton, the capital of the Canadian province of New Brunswick, has a rich history tracing back to its indigenous Maliseet and Mi'kmaq roots. Multiple waves of migration moulded Fredericton's cultural landscape, which began with the 18th-century Acadian settlers, followed by United Empire Loyalists escaping the American Revolution. Fredericton officially became a city in 1848 and has... International Airport, located in proximity, offers flights to major Canadian cities and international locations. Stanley also boasts robust digital connectivity, an essential feature in this digital age.
Sports Facilities
For sports enthusiasts, the Stanley Arena, a well-equipped indoor facility, hosts various local sporting events throughout the year, including hockey matches, figure skating, and public skates. Physical fitness programs are also offered to the community, promoting a healthy and active living lifestyle.
Traveler's Final Take
Visiting Stanley offers an enchanting blend of historical allure, natural beauty, and vibrant community spirit. Its laid-back atmosphere coupled with a range of facilities and attractions ensures it caters to the needs and interests of every visitor.
Must-Visit Spots in Stanley:
1. Stanley Fall Fair,
2. Stanley Bridge Studios & Gallery,
3. Stanley Consolidated School,
4. Stanley Public Library,
5. Mactaquac Provincial Park,
6. Sexton Covered Bridge,
7. Stanley Town Center,
8. Stanley Post Office,
9. Fredericton International Airport,
10. Stanley Arena