Nestled in the picturesque town of Qualicum Beach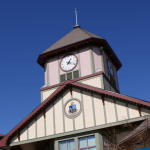 Qualicum Beach Origins & Evolution Nestled on the picturesque east coast of Vancouver Island in British Columbia, Qualicum Beach is a city that seamlessly blends natural beauty with a rich historical tapestry. This enchanting locale has evolved significantly over the years, with its roots deeply embedded in the heritage of the Qualicum people. This coastal Salish tribe was the region's... of British Columbia, Canada dwells an exquisite hands-on artistic sanctuary, the Qualicum Art Supply and Gallery. This multifaceted gallery is an impressive blend of art supply store, a display space exhibiting local talents, and a creative studio imparting artistic skills across generations.
As a supply shop, it boasts an extensive array of art necessities piquing diverse artistic interests. From professional level supplies to beginner craft tools, the shop encapsulates the awe-inspiring variety, assuring to satiate every artist's distinct requisites. It seamlessly meets the needs of a gamut of artistic disciplines, including painting, drawing, ceramics, glasswork or even mixed-media.
In terms of its gallery, the walls of the establishment are adorned with a moving collection of artworks sourced predominately from local artists. From seasoned painters, emerging artists to flowering young talents, the gallery magnifies the eclectic assortment of the regional art scene. Varied techniques, tones and textures leap out from the canvases on display, creating an atmosphere of vivid engagement.
Moreover, the Qualicum Art Supply and Gallery also welcomes art enthusiasts to hone their artistic prowess through its classes. With expert led workshops catering to all skill levels, it encourages patrons to immerse in their creative pursuits. These classes allow participants to create their artwork in a supportive and inspirational surrounding, nurturing the fusion of creativity and learning.
Summing up, Qualicum Art Supply and Gallery in Qualicum Beach, Canada, is an emblem of ingenious artistry set against the backdrop of idyllic tranquility. A reservoir of worthwhile artistic resources, a showcase of local talent, and a cradle of artistic education, it is indeed an undisputed gem in the realm of art, delivering a profound and enriching experience to its patrons.