The Historical Significance of the Royal Alberta Museum
The Royal Alberta Museum, located in Edmonton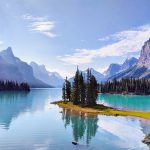 Edmonton Origins & Evolution Located on the North Saskatchewan River in Alberta, Canada, Edmonton is a city with a rich Native history dating back thousands of years to the indigenous tribes that once inhabited the region. European settlers arrived in the late 18th century, starting with the Hudson's Bay Company in 1795. They established Edmonton as a key trading post..., Alberta, holds a significant place in Canada's cultural landscape. With its diverse collection and dedication to preserving and interpreting Alberta's history, it serves as a gateway to the province's past. Established in 1967, the museum has played an integral role in fostering a sense of community and pride among Canadians.
As visitors delve deep into the heart of the museum, they encounter immersive exhibits that shed light on the region's indigenous cultures, natural history, and European settlement. From ancient artifacts to modern artworks, the museum's collection spans thousands of years and offers a rich tapestry of stories that reflect Alberta's evolving identity. Exploring these exhibits allows for a deep understanding of the province's past and the legacies that shape its present.
The Architectural Beauty of the Royal Alberta Museum
Architecturally, the Royal Alberta Museum showcases a captivating blend of contemporary design and historical elements. The recently renovated building, reopened in 2018, boasts a stunning façade characterized by eye-catching angles and sleek lines. Its modern appearance harmonizes with the adjacent Government House Legislative Building, creating a seamless integration of old and new.
Upon entering, visitors are greeted by an expansive atrium, adorned with towering windows that flood the space with natural light. The museum's thoughtful layout ensures a seamless flow between galleries, offering visitors an immersive and engaging experience. Through its combination of natural materials, thoughtful lighting, and innovative exhibitions, the building itself becomes a work of art, inviting guests to explore its intricate corridors and uncover its hidden treasures.
The Unique Experiences the Royal Alberta Museum Promises
Whether you are an art enthusiast, history buff, or nature lover, the Royal Alberta Museum promises a range of unique experiences that cater to every interest. For those captivated by the natural world, the museum's central gallery focuses on Alberta's diverse flora and fauna, showcasing the province's rich biodiversity and highlighting the importance of conservation.
If it is the human journey that rivets you, the museum's ethnographic exhibits provide a captivating exploration of Alberta's indigenous cultures, celebrating their contributions while enhancing understanding and promoting cultural respect. The incorporation of interactive displays and multimedia installations elevates the experience, ensuring an immersive and educational visit.
As visitors leave the Royal Alberta Museum, they carry with them not only the memories of the unique encounters they had within its walls but also a deeper understanding of Alberta's cultural heritage and natural wonders. The museum serves as a testament to the province's pride in its past and its commitment to preserving it for generations to come.