Terrebonne Origins & Evolution
Founded in 1673 and now a city in western Quebec, Canada, Terrebonne is a location brimming with unique history and vibrant personality. The area was initially known for its fertile soils, with the name Terrebonne translating to 'Good Earth.' As historical development paved the way for today's city, remnants of the past, such as the two-century-old Moulin neuf (the New Mill), provide reminders of the agrarian roots of Terrebonne. Gradual development over centuries saw Terrebonne evolve from a quiet settlement to a bustling city complete with picturesque suburbs and plazas. It showcases the harmonious blend of tradition and modern elements, highlighted by its heritage buildings and contemporary infrastructures.
City's Geography & Demography
Terrebonne is positioned on the North banks of the Rivière des Mille Îles and the Rivière des Prairies. This gives it a mild continental climate with warm, relatively rainy summers and cold, snowy winters. With a population exceeding 100,000 people, Terrebonne is a culturally diverse city making it a fascinating hub for tourists and locals alike. The city offers a friendly and warm ambiance that mirrors the vibrant, multicultural demography and enriches the communal life of Terrebonne.
Cultural & Artistic Landscape in Terrebonne
Art lives and breathes in Terrebonne – the city boasts a rich cultural scene which presents numerous events, art galleries, and theaters. Key among them is the Théâtre du Vieux Terrebonne, an intimate venue that hosts a variety of performances, from ballet to comedy acts. The Maison Bélisle, an art museum situated in a beautiful heritage building, houses breathtaking masterpieces from various artists, while Le Centre d'art La petite église offers an eclectic array of exhibitions. The city also hosts numerous cultural events and festivals throughout the year, like the Fête de la Nouvelle France and Festival des Couleurs, which celebrate the city's rich history and cultural diversity.
Educational & Research Facilities
Terrebonne is not only a cultural hub but also home to significant educational institutions. The city is served by multiple public elementary and high schools, along with Cégep régional de Lanaudière à Terrebonne – the city's public college. Université de Sherbrooke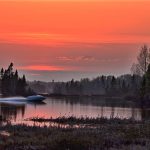 Sherbrooke Origins & Evolution Sherbrooke, founded in 1802, is a charming city located in southern Quebec, Canada. Its growth and development stemmed primarily from its strategic location alongside the Magog and Saint-François rivers, its rich natural resources, and the determination of its early settlers. Initially revolving around farming, Sherbrooke gradually transitioned into an industrialized city boasting textile and woodworking mills..., located nearby, offers diverse undergraduate and postgraduate programs contributing to the city's academic landscape. Further, numerous public libraries like the Grande Bibliothèque offer an extensive collection of reading materials and digital resources.
Terrebonne's Highlights & Recreation
Terrebonne is gifted with numerous natural sights and recreational spots. The Île-des-Moulins historic site, one of the city's prime attractions, offers beautiful green spaces and water bodies with elements of history sprinkled throughout. Parc de la Rivière, a large park located at the heart of Terrebonne, is renowned for its trails, entertainments, and picnic areas. Meanwhile, the lovers of winter sports can explore the numerous ski resorts in the surrounding area.
Commerce & Conveniences
Terrebonne offers an array of shopping venues ranging from local boutiques to large retail chains. Complexes des Terres, for instance, is a shopping hub presenting a vast selection of retail stores, dining options, and essential services. Banks, postal services, and other businesses are conveniently scattered throughout the city, ensuring that residents and visitors can find what they need with ease.
Transport & Connectivity
Terrebonne is well-served by expedient public transport, including bus, taxi, and train services. The city is also equipped with modern infrastructure with sprint highways connecting to nearby areas. For those traveling from afar, Terrebonne's proximity to Montreal's Pierre-Elliott Trudeau International Airport makes it easily accessible by air.
Sports Facilities
Terrebonne is home to a plethora of sports centers such as Complexe Sportif Terrebonne, which hosts a number of team sport activities. Cité du Sport is another popular facility that includes an ice rink, a gymnastics centre, and fields for soccer and baseball.
Traveler's Final Take
Terrebonne is where history harmonizes with contemporary city life, where cultural diversity converges to form its distinct identity, and where education, commerce, and recreation coalesce to offer a great lifestyle. It's a city brimming with promise, vibrancy and warm hospitality, making it an ideal place for tourists and locals alike.
"Must-Visit Spots in Terrebonne": Moulin neuf, Théâtre du Vieux Terrebonne, Maison Bélisle, Le Centre d'art La petite église, Cégep régional de Lanaudière à Terrebonne, Université de Sherbrooke, Grande Bibliothèque, Île-des-Moulins historic site, Parc de la Rivière, Complexes des Terres, Complexe Sportif Terrebonne, and Cité du Sport.