Set amidst the charming locale of Qualicum Beach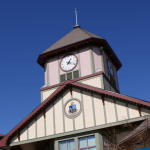 Qualicum Beach Origins & Evolution Nestled on the picturesque east coast of Vancouver Island in British Columbia, Qualicum Beach is a city that seamlessly blends natural beauty with a rich historical tapestry. This enchanting locale has evolved significantly over the years, with its roots deeply embedded in the heritage of the Qualicum people. This coastal Salish tribe was the region's... in British Columbia, Canada, the Village Theatre is a distinctive attraction that boasts of culture, history, and lively performances. Known for its quaint and cozy ambiance, the theatre embodies the spirit of Qualicum, highlighting the town's passion for arts and culture.
Built in the 1940s with numerous renovations done over the years, the Village Theatre remarkably maintains its historical charm while incorporating the comfort of modern facilities. Its distinctive beige exterior exudes a retro charm, while the soft glow from the marquee adds an inviting touch. The exterior, though impressive, merely serves as the prelude to the grandeur within.
Stepping inside, visitors are typically greeted by a warm, inviting aura, underscored by attentive staff. The interior is a fusion of modernity and nostalgia, with plush seating generously spread across spaciously. The theatre is blessed with excellent acoustics, complemented by advanced lighting systems, presenting an optimal viewing experience. At full capacity, it accommodates 275 patrons, highlighting its role as a popular venue for entertainment in the region.
Primarily famous for Broadway musicals, the Village Theatre has played host to numerous local and international performances, showcasing a dynamic array of dramas, classics, and contemporary productions. The theatre is also home to the vibrant ECHO Players, a community theater group known for delivering standout performances.
Outside of theatre hours, the Village Theatre is an in-demand venue for various local events, film screenings, lectures, and concerts. The immensity of its contribution to the local arts scene makes it an invaluable asset to the residents of Qualicum Beach.
In summary, the Village Theatre in Qualicum Beach, Canada, seamlessly marries old-world charm with modern convenience while facilitating a diverse range of cultural performances and events. Its character-filled architecture, advanced facilities, and central role in the community make it a must-visit gem in this enchanting coastal town.