Eel River Crossing Origins & Evolution
Eel River Crossing, a quaint yet robust town situated in the Restigouche County of New Brunswick, Canada, owes its existence to the timber boom during the 1820s. The strategic location near the Eel River's mouth proved a rallying point for the timber industry and saw the first influx of settlers. Quickly, the village grew with Irish, English, and Scottish immigrants, nurturing a unique blend of cultures and traditions.
With time, the town expanded its economies from lumber and shipbuilding, diversifying into mining, fishing, and farming by the late 19th and early 20th century. Despite these shifts, the town radiates a serene humbleness with strong ties to its industrious past.
City's Geography & Demography
Ensconced along the Eel River's west bank, Eel River Crossing balances a tranquil rural life with vibrant urban amenities. The town enjoys a temperate maritime climate, with pleasant summers and snowy winters, making it a picturesque destination year-round.
Demographically, the small town embodies a multicultural atmosphere and a diverse populace. With a small population of about 1300 residents, the town displays a tight-knit, friendly, and welcoming community spirit. Emphasizing values of respect and cooperation, Eel River Crossing stands as a testament to Canadian multi-ethnic hospitality.
Cultural & Artistic Landscape in Eel River Crossing
Despite its size, the town boasts a dynamic cultural scene with celebrations, festivals, and artistic performances, enhancing the local unity and community spirit. The Restigouche Gallery accentuates the vibrant artistic streak, hosting numerous local artists and artisans' exhibits and making it a local artistic hub.
Furthermore, the annual Lumberjack Festival pays homage to the town's roots, offering entertaining competitions, music, and traditional dances, inviting participation from all ages. Indeed, in Eel River Crossing, culture and community converge, creating an invigorating festive spirit that marks the township's rhythm.
Educational & Research Facilities
Eel River Crossing's earnest commitment to education is reflected in its embrace of educational and research institutes. The Eel River Dundee Elementary School provides quality education to the young minds of the town. Additionally, the local library, a treasure trove of regional history, literature, and research materials, is an intellectual refuge for the residents.
Eel River Crossing's Highlights & Recreation
Furthermore, the city remains a secret hotspot for recreational enthusiasts owing to the Eel River Bar beach and the Eel River Nature Park. These sites offer an array of outdoor activities, including hiking, birdwatching, camping, and picnicking.
The town's key landmark, the Rainbow Bridge, is a sight to behold, spanning the Eel River's expanse, embellished with historical significance and accompanied by breathtaking views.
Commerce & Conveniences
From groceries and gourmet delights to local crafts, the commercial landscape offers a variety of shopping options. The local post office and banking facilities further enhance the town's convenience. Seasonal farmer markets attract both locals and visitors with their fresh produce and homemade treats.
Transport & Connectivity
The town's transport connectivity is streamlined by the Eel River Crossing Train Station and the nearby Bathurst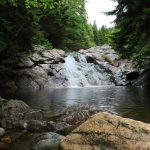 Bathurst Origins & Evolution Located in Eastern Canada, bathed by the Chaleur Bay waters, Bathurst is a picturesque city with a rich history. Founded in 1826, Bathurst evolved from a colonial dominion into a dynamic, multifaceted city. It initially thrived on shipbuilding and later immersed itself in railway and mining industries. Present day Bathurst, while maintaining the vestiges of its... Airport. Local buses and taxis make commuting within the town an easy affair. For long-distance travel, the train station provides swift connections to major cities.
Sports Facilities
Sports facilities in Eel River Crossing include the local Recreation Centre. A hub for thriving sports activities like soccer, hockey, and badminton, the center is also the venue for community events, contributing to the whole town's camaraderie spirit.
Traveler's Final Take
Eel River Crossing, with its historical roots, multicultural residents, artistic highlights, and educational integrity, captures the essence of small-town charm with a vibrant community spirit. Whether you wish to explore the untamed nature, delve into community events, or engage in commerce, Eel River Crossing offers a slice of tranquility infused with a bustle of warmth and harmony.
Must-Visit Spots in Eel River Crossing
– Restigouche Gallery
– Lumberjack Festival
– Eel River Dundee Elementary School
– Eel River Bar beach
– Eel River Nature Park
– Rainbow Bridge
– Eel River Crossing Train Station
– Recreation Centre