Morden Origins and Evolution
The history of the charming city of Morden in Manitoba, Canada, is closely entwined with the construction of the Pembina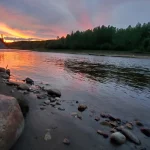 Pembina Origins & Evolution Pembina, a charming city situated on the Pembina River in Canada, has a rich and fascinating history. Founded in 1820, it was primarily a trading community serving the fur trade industry in its early days. The city grew steadily with the establishment of a railway line in the late 1800s, further solidifying its status as a... Branch of the Canadian Pacific Railway in the early 1880s. Named in honor of Alvey Morden, the city owes its establishment to the advancement of transport infrastructure. Over the years, Morden has grown into a bustling urban hub while preserving its quaint rural charm.
Founded in 1882, Morden went through several transformations, gradually evolving from a railway town to an agricultural, and later, commercial center. By the turn of the century, it had developed into a renowned destination for cultural tourism, thanks to its myriad historical sites and breathtaking natural landscapes. The city has a vibrant multi-ethnic community that enriches its character and lends a unique perspective to its growth narrative.
City's Geography and Demography
Located in the south-central part of Manitoba, Morden is nestled amidst picturesque countryside and boasts of a moderate continental climate. The city's location near the United States border serves as a crucial factor in its economic and social dynamics.
As per the latest census data, Morden's population is a diverse mix of over 9,000 inhabitants, continuously growing due to its thriving economy and quality of life. The city's demography reflects a harmonious blend of its historical roots and a progressive outlook, underscoring its evolution into a multicultural urban center.
Cultural and Artistic Landscape in Morden
Morden is known for its vibrant arts scene nurtured by numerous events, museums, theaters, and galleries. Its most notable cultural event is the Morden Corn & Apple Festival, an annual summer extravaganza attracting thousands of visitors.
The Pembina Threshermen's Museum and the Canadian Fossil Discovery Centre are prime attractions for history and science buffs alike. Emphasizing Morden's commitment to preserving and promoting local history and culture, these institutions reflect the deeply entrenched artistic spirit of the city.
Educational and Research Facilities
Morden offers numerous high-quality educational opportunities, ranging from primary to tertiary levels. The Western School Division caters to primary and secondary education while universities and colleges in nearby cities provide higher education.
The regional library, serving as a community hub and access point to national resources, highlights Morden's dedication to knowledge and research. From educational institutions to research facilities, Morden's learning ecosystem creates a stimulating and supportive environment for learners of all ages.
Morden's Highlights and Recreation
Morden's great outdoors underscore its appeal, with Lake Minnewasta and Colert Beach – must-see spots for nature lovers. The city is graced with several parks and recreational spots, of which Morden Park stands out with its beautiful walking trails and playgrounds.
The renowned Dead Horse Creek, a tranquil retreat, and the exhilarating Minnewasta Golf and Country Club are some of the other outdoor attractions. These natural highs, coupled with Morden's urban tranquility, offer a blend of activity and relaxation that caters to diverse interests and age groups.
Commerce and Conveniences
The city of Morden provides a host of commercial services and amenities that ensure a comfortable lifestyle for its residents. From local shops offering artisan products to the convenience of major banks and postal services, Morden caters to all needs. Its vibrant commerce scene is further invigorated by seasonal farmers' markets and festive sales.
Transport and Connectivity
Morden is well-connected and easily accessible by road. Its public transportation system ensures swift movement within the city. For longer trips, including international travel, the Winnipeg James Armstrong Richardson International AirportThe Historical Significance of Winnipeg James Armstrong Richardson International Airport Winnipeg James Armstrong Richardson International Airport holds a storied past filled with historical significance, making it a must-visit landmark for anyone exploring Canada. Originally opened in 1928 as Stevenson Aerodrome, it became the country's first international airport, connecting Canada to the rest of the world. Since then, it has evolved... is located a car ride away, enhancing Morden's accessibility.
Sports Facilities
For sports enthusiasts, Morden offers excellent facilities. The Access Event Centre is a noteworthy amenity, boasting an arena, a community hall, and a curling club.
Traveler's Final Take
With its mix of historical charm and modern amenities, scenic landscapes, and an enriching cultural scene, Morden, Manitoba is a city that warrants more than just a cursory glance.
Morden's Must-Visit Spots:
Pembina Threshermen's Museum
Canadian Fossil Discovery Centre
Lake Minnewasta
Colert Beach
Morden Park
Dead Horse Creek
Minnewasta Golf and Country Club
Access Event Centre
Western School Division
This list-topping these attractions and institutions will provide visitors a comprehensive showcase of the city's verve and versatility. Get ready to explore Morden, a city that beautifully blends the old and new, the tranquil and dynamic, all within its captivating confines.