The Historical Significance of Old Quebec
Nestled on the banks of the majestic St. Lawrence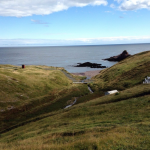 St. Lawrence Origins & Evolution Nestled in Canada's easternmost provinces, the precious gem that is St. Lawrence is imbued with a rich tapestry of history and development. It was reportedly founded in the 18th century, primarily as a fishing town due to its strategic location along the coast. The city's evolution has been largely dependent on its maritime roots, shaping... River, Old Quebec stands as a living testament to Canada's rich history. Founded by French explorer Samuel de Champlain in 1608, this UNESCO World Heritage Site is the oldest walled city in North America. The narrow cobblestone streets, fortified stone walls, and charming colonial architecture take you on a journey back in time, immersing you in the fascinating stories of the early European settlers and their interactions with the Indigenous peoples of the region. As you wander through the historic quarter, you will encounter iconic landmarks such as the breathtaking Château Frontenac, the regal Notre-Dame de Québec Basilica-Cathedral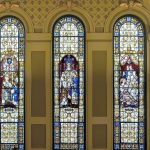 The Historical Significance of Notre-Dame de Québec Basilica-Cathedral Stepping inside Notre-Dame de Québec Basilica-Cathedral is like stepping back in time, immersing oneself in centuries of rich history. As the oldest church in North America, its roots date back to the early 17th century when the first chapel was built on the site. Over the years, the basilica-cathedral has witnessed countless..., and the bustling Place Royale, known as the birthplace of French civilization in North America.
The tapestry of Old Quebec's history is interwoven with significant events, including fierce battles, colonial rivalries, and cultural exchange. Visitors can delve into the past by exploring the Plains of Abraham, where the pivotal Battle of Quebec took place in 1759, forever shaping the destiny of North America. The city's historical significance extends beyond military conflicts, encompassing the preservation of its French heritage, which can be witnessed in the language, cuisine, and vibrant arts scene that continues to thrive today. Old Quebec is more than just a place frozen in time; it serves as a living link to Canada's complex and multifaceted past.
The Architectural Beauty of Old Quebec
Old Quebec's architectural splendor is a visual feast for the senses. Its collection of stunning buildings, many dating back to the 17th century, showcase a harmonious blend of French, British, and Indigenous influences. Admire the picturesque walls and gates that encircle the city, offering panoramic views of the St. Lawrence River and the surrounding landscapes. The exceptional craftsmanship of the stone buildings, ornate balconies, and intricate details will leave you awe-inspired at every turn. Take a leisurely stroll along Rue du Petit-Champlain, one of the oldest commercial streets in North America, and immerse yourself in the enchanting atmosphere created by whimsical boutiques, quaint cafés, and eye-catching murals.
The crown jewel of Old Quebec's architecture is undoubtedly the iconic Fairmont Le Château Frontenac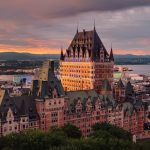 The Historical Significance of Fairmont Le Château Frontenac Nestled within the charming city of Quebec, Fairmont Le Château Frontenac stands as a true testament to Canada's rich history. Erected in 1893, this magnificent castle-like structure evokes a sense of awe and wonder among all who visit. As one of the most iconic landmarks in the country, the hotel has witnessed..., a castle-like hotel that dominates the skyline. Its unmistakable turrets and grandeur make it one of the most photographed hotels in the world. For a glimpse into the past, visit the Morrin Centre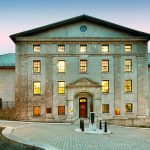 The Historical Significance of Morrin Centre The Morrin Centre, located in the heart of Quebec City, is undeniably one of Canada's most iconic landmarks. Once a prison, this imposing building has witnessed centuries of history and played a vital role in shaping Canada's cultural landscape. Its historical significance stems from its status as the city's first common gaol, which opened..., a stunning Victorian building that once served as the city's first jail, now transformed into a library and cultural center. Whether it's the captivating simplicity of a stone wall or the majestic elegance of a centuries-old church, Old Quebec's architectural wonders are sure to leave a lasting impression on every visitor.
The Unique Experiences of Old Quebec
Beyond its historical significance and architectural beauty, Old Quebec offers a plethora of unique experiences that will make your visit truly memorable. Embark on a guided walking tour led by passionate locals who will regale you with captivating stories about the city's past and present. Indulge your taste buds in the delectable delights of French-inspired cuisine, from flaky croissants to savory crepes, while sipping on a glass of locally produced ice cider. Explore the charming boutiques and art galleries that showcase the talents of Quebec's artisans, offering a wide array of one-of-a-kind souvenirs to take home.
For the adventurous souls, winter transforms Old Quebec into a magical wonderland. Experience the exhilaration of ice skating on the frozen Plains of Abraham, surrounded by snow-covered historic landmarks. The annual Québec Winter Carnival, one of the world's largest winter festivals, takes over the city with vibrant parades, ice sculptures, and traditional outdoor games. Embrace the true spirit of joie de vivre as you participate in snowshoeing, dog sledding, or simply savoring a cup of hot chocolate in a cozy café.
Old Quebec is more than just a tourist destination; it is a captivating journey through time, enriched by its historical significance, architectural beauty, and unique experiences. Step into its narrow streets, soak in the ambiance of centuries past, and discover what lies at the heart of this Canadian treasure. Whether you are a history enthusiast, an architecture aficionado, or simply seeking a whimsical escape, Old Quebec promises to be an unforgettable experience that will leave an indelible mark on your Canadian bucket list.