Thetford Mines Origins & Evolution
Nestled in the heart of Quebec, Canada, lies the city of Thetford Mines, an emblem of endurance and modern evolution steeped in its distinctive roots. Established in 1876, it emerged from the discovery of significant asbestos deposits in the area, which eventually shaped its industrial identity. The black lake district where the thetford mines are located was essentially a mining area, and its legacy persists in the city's robust, hardworking character.
However, Thetford Mines has since diversified from its mining heritage, successfully reinventing itself into a vibrant city of culture, education, and commerce. The Musée Minéralogique et Minier de Thetford Mines (Mineralogical and Mining Museum of Thetford Mines) and Mine Morrison, a designated National Historic Site of Canada, retain the essence of the city's significant past, offering visitors a glimpse into its potent mining history.
City's Geography & Demography
Thetford Mines is located in the administrative region of Chaudière-Appalaches in Quebec. It's an inland city primarily surrounded by verdant landscapes, forests, and small lakes, making it a haven for nature lovers. The city caters to a steady population of around 25,000 individuals characterized by a blend of art, culture, and education.
The city experiences a continental climate featuring distinct seasonal variations, from cold and snowy winters to warm, lush summers. This changeable climate further enhances the city's charm, adding diversity and dynamism to the region.
Cultural & Artistic Landscape in Thetford Mines
Thetford Mines boasts a rich, vibrant, and diverse cultural scene. Among its top attractions for culture enthusiasts is the Musée Minéralogique et Minier that exhibits various artifacts and information pertaining to the mining industry. The Mousseau Park hosts the annual "Painters' Festival" that invites numerous artists to showcase their artistic prowess.
The city also houses theatre La Bordee that hosts a variety of performances, adding to its cultural scene. In addition, art lovers can find several art galleries that exhibit pieces from local and international artists.
Educational & Research Facilities
Thetford Mines is home to several reputed educational institutions, such as the Cégep de Thetford and the Polyvalente de Thetford, providing excellent learning opportunities for students. The city also houses a robust library network, including the Bibliothèque de Thetford, with a wealth of resources for research and study.
Thetford Mines's Highlights & Recreation
From picturesque natural landscapes to historical mining sites, Thetford Mines has something for everyone. Parc National de Frontenac and Mont Adstock are perfect for nature lovers, offering scenic views, trails, and recreational activities.
Those interested in the city's history can visit the King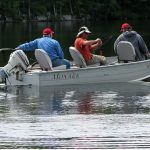 King Origins & Evolution A peaceful hamlet settled in 1801, King boasts an intriguing history steeped in indigenous values and rich European influences. Originally inhabited by the Huron-Wendat natives, King was later integrated into British society when Governor John Graves Simcoe divided Upper Canada into townships, King being one of them. Over the centuries, it transformed from a farming colony... | Mine historic site, showcasing the city's rich mining history. Parc Bellerive is also a popular spot for locals and tourists alike, offering numerous recreational activities.
Commerce & Conveniences
Thetford Mines is a bustling modern city offering ample retail and commerce options. The city's main commercial center is home to many local and international retailers, banks, and postal services.
For convenience during the colder months, the city also hosts a number of seasonal sales and events, adding to Thetford Mines' shopping appeal.
Transport & Connectivity
Moving around Thetford Mines is a breeze, thanks to its well-developed public transportation system. A robust bus network covers the city and its suburbs, ensuring easy access to all areas. For travelers coming from afar, Québec City Jean Lesage International AirportThe Historical Significance of Quebec City Jean Lesage International Airport Located in Quebec City, the Jean Lesage International Airport holds a special place in the hearts of Canadians. Established in 1941 as a military base during World War II, it has witnessed pivotal moments in the country's history. Step into this airport, and you can almost feel the echoes of... is the closest, situated about 60 miles from the city.
Sports Facilities
For sports enthusiasts, Thetford Mines boasts several dedicated facilities, including the Centre Mario Gosselin – a modern sports complex, and Stade Rémi Deshaies, a well-facilitated stadium for outdoor sports.
Traveler's Final Take
To conclude, Thetford Mines embodies a remarkable blend of history, culture, and modern conveniences, making it a fascinating destination for any traveler. Whether exploring the city's rich mining history, indulging in its vibrant cultural scene, experiencing its commendable education framework, or enjoying its versatile recreational activities, Thetford Mines has much to offer.
Must-Visit Spots in Thetford Mines
Musée Minéralogique et Minier de Thetford Mines
Mine Morrison
Parc National de Frontenac
Mont Adstock
King | Mine Historic Site
Parc Bellerive
Thetford Shopping Center
La Bordee Theatre
Centre Mario Gosselin
Stade Rémi Deshaies
Cégep de Thetford
Bibliothèque de Thetford
Mousseau Park