Allardville Origins & Evolution
Allardville, a proud and composed rural community in Gloucester County, New Brunswick, Canada, holds a strong character and unique charm. Its origins date back to 1932 when Father Jean-Joseph-Auguste Allard helmed a massive movement against the prevalent economic distress. Over time, Allardville has continued to evolve and grow, marking its identity as a self-sufficient small community. It's a prominent representation of New Brunswick's Acadian heritage, and many of the traditions, including the widely celebrated Acadian Festival, reveal the city's rich tapestry of history.
The city has managed to retain some architectural remnants from its early days. Allardville Church, for instance, stands as an emblem of the town's commitment to safeguard its heritage. The sense of community is strong in Allardville, reflecting its founders' ethos in its modern setting.
City's Geography & Demography
Nestled in the heart of northeastern New Brunswick, Allardville is surrounded by uninterrupted tranquility and a picturesque landscape, reminding visitors of scenes from a delightful pastoral painting. The city experiences a temperate maritime climate, characterized by chilly winters and moderately warm summers.
With a population just above 2000, this small population ensures an intimate, tight-knit community. The city predominantly consists of Acadians, providing visitors with a unique opportunity to experience a culture firmly rooted in historical traditions.
Cultural & Artistic Landscape in Allardville
Allardville's cultural scene is shaped by its Acadian ancestry. The arts thrive here, with several local artists showcasing their work in various forms and outlets throughout the city like 'Soeur Maillet' theatre. The city laps up the opportunity to showcase its culture during the annual Acadian Day celebrations, including music, dances, and traditional cuisine showcases.
The Allardville Outdoor Art Gallery is an open invitation to locals and tourists who have a keen eye for contemporary art. It exhibits paintings and sculptures that blend international impressions with traditional Acadian inspirations.
Educational & Research Facilities
Allardville prides itself on its strong communal focus on education and learning opportunities. There are quality primary and secondary schools – Carrefour Beausoleil School being one. Allardville also boasts a modern library packed with a diverse selection of literary and academic offerings.
Allardville's Highlights & Recreation
Allardville delivers an exceptional experience to nature-loving visitors. The "Vallee de l'Alouette" is a true gem of the city where one can hike through pine and spruce forests, and witness an extraordinary palette of colors in the autumn.
Moreover, the city offers access to snowmobile and ATV trails for adventure enthusiasts. For quieter entertainment, there are several other spots like – La Promenade Waterfront – an ideal place for family picnics offering breathtakingly beautiful sunset views.
Commerce & Conveniences
Allardville stands as a self-sufficient city with several local shops and amenities that cater to the residents' daily needs. From groceries and restaurants to postal services and banks, everything is within reach. The town also hosts seasonal sales, giving local craftsmen and artisans a platform to showcase their work.
Transport & Connectivity
Allardville is well-connected via road networks, and public transport facilities are adequately equipped to serve its residents and visitors. The closest airport, Bathurst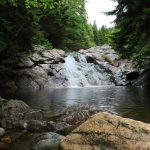 Bathurst Origins & Evolution Located in Eastern Canada, bathed by the Chaleur Bay waters, Bathurst is a picturesque city with a rich history. Founded in 1826, Bathurst evolved from a colonial dominion into a dynamic, multifaceted city. It initially thrived on shipbuilding and later immersed itself in railway and mining industries. Present day Bathurst, while maintaining the vestiges of its... Airport, is just a short drive away, ensuring seamless connectivity for out-of-towners.
Sports Facilities
Sports play a significant role in Allardville's community life. The multi-purpose center- Centre sportif J-D Gauthier – provides facilities for a range of sports activities, including a gym, an ice rink, and a swimming pool.
Traveler's Final Take
Allardville, with its expansive outdoor activities, vibrant cultural scene, and a deep sense of community, offers an experience that goes beyond its size. There's an inherent charm that clings to each corner of the town that makes Allardville an endearing destination for those of us who appreciate authenticity and richness in history.
Must-Visit Spots in Allardville
Allardville Church
Soeur Maillet Theatre
Allardville Outdoor Art Gallery
Carrefour Beausoleil School
Allardville Public Library
Vallee de l'Alouette
La Promenade Waterfront
Local shops and Artisan's seasonal sale spots
Centre sportif J-D Gauthier