Bishops Falls Origins & Evolution
Nestled along the Falling Brook, a tributary of the mighty Exploits River, the small town of Bishops Falls, Newfoundland and Labrador, hides a story of perseverance and evolution. Beginning as a logging community in the 19th century, the settlement grew with the establishment of the Botwood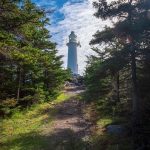 Botwood Origins & Evolution Belonging to the highly alluring province of Newfoundland and Labrador, Botwood is a charming city that has a rich historical tapestry and impressive lineage. The city, originally settled by the Beothuk and Mi'kmaq Indigenous people, owes its name to Sir Robert Bond, a former prime minister of Newfoundland. In the early 1900s, Botwood underwent rapid economic... Railway. Despite a significant fire in the early 20th century that almost obliterated the town, Bishops Falls rebounded and continued its steadfast growth, the remnant of its industrial heritage vivid in its identity even today. The town has since grown with commercial and residential developments, while maintaining its rustic allure.
City's Geography & Demography
Bishops Falls sits off the Trans-Canada Highway, conveniently situated between Grand Falls-Windsor and Gander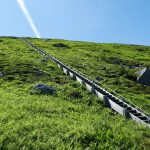 Gander Origins & Evolution Nestled within the northeastern part of Newfoundland Island, Gander is a charming Canadian city with a rich aviation history. It was established in the late 1930s as a strategic location for a major international airport, now known as Gander International Airport. During the Second World War, the town served as an important refuelling point for military.... It has a population of approximately 3000 people based on the latest census. The town experiences a humid continental climate, with chilly winters and warm, humid summers. It's surrounded by lush full trees, providing a picturesque setting especially in fall.
Cultural & Artistic Landscape in Bishops Falls
The cultural heart of Bishops Falls beats vibrantly during the annual Salmon Festival, which celebrates the local culture and the famous Atlantic salmon. The Bedford Cord Museum and Exploits Valley Community Centre, located in the original railway station, exhibits artifacts from the early logging and railways days. No formal theater or gallery exists, yet the heart of the community's cultural activities are often centered around the local schools and community centers, offering plays, music performances, and craft fairs.
Educational & Research Facilities
Education and learning are integral parts of Bishops Falls, with its public school system comprising Helen Tulk Elementary and Leo Burke Academy. There's also the Bishops Falls Public Library, which extends its services as a venue for community activities, presentations, and meetings.
Bishops Falls's Highlights & Recreation
In terms of landmarks, "The Trestle" stands out; an over 900 meters long railway trestle, is one of the longest Newfoundland; it's a reminder of the town's logging heritage. The town's Parks and Recreation department maintains several beautiful parks, including The Fallsview Municipal Park, where residents can enjoy the serene landscape and engage in camping.
Commerce & Conveniences
Main Street in Bishops Falls, while not overflowing with mega-malls, has a collection of local shops. These include the Shopping Basket and Powell's Supermarket for groceries, Red Cliff Variety for homeware items, and Co-Op Atlantique Liquor Store. Other conveniences including post office, several banks, and seasonal farmers markets.
Transport & Connectivity
Bishops Falls is located between two main regional airports – Gander International Airport and Deer Lake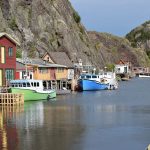 Deer Lake Origins & Evolution Nestled in a picturesque setting, Deer Lake, a small progressive community in Newfoundland and Labrador, Canada, holds a rich history tracing back to the 1800s. Originally known as Second Pond, it was incorporated as Deer Lake in 1925 owing to the abundant deer population. Historically, Deer Lake has thrived predominantly in the logging and paper... Regional Airport – both about two hours' drive away. Within town, public transportation is limited, with most people favoring private vehicles to navigate the town and its surrounding areas.
Sports Facilities
Sports thrive in Bishops Falls. The town is the proud home of the Carmelite House Outdoor Rink for winter sports, and the Bishops Falls Ball Field for baseball enthusiasts. There are also several snowmobile trails for those who enjoy winter sports.
Traveler's Final Take
Bishops Falls strikes a delicate balance between the quintessential small-town charm and the conveniences of contemporary living. From unspoiled natural beauty, warm and friendly locals to intriguing historic sites, it's a town that welcomes everyone with open arms.
Must-Visit Spots in Bishops Falls:
The Bedford Cord Museum
The Trestle
The Fallsview Municipal Park
Exploits Valley Community Centre
Salmon Festival
Helen Tulk Elementary and Leo Burke Academy
Bishops Falls Public Library
Shopping Basket and Powell's Supermarket
Carmelite House Outdoor Rink
Bishops Falls Ball Field