Grande Cache Origins & Evolution
Nestled within Alberta's Rocky Mountains, the town of Grande Cache is steeped in a rich history that defines its unique character. This town owes its birth to geological explorations conducted in the 1960s when vast coal reserves were discovered, paving the way for a coal mining industry that became the heart of Grande Cache. Established in 1966, Grande Cache quickly grew as the population surged in response to employment opportunities provided by coal production.
Following the industry's boom and subsequent bust periods, Grande Cache weathered economic instability and has since pivoted towards a more diversified economy focusing on tourism and recreation. Even so, remnants of its coal mining history are evident in the town's Coal Discovery Centre, a must-visit for anyone keen to delve into the rich history.
City's Geography & Demography
Surrounded by the mesmerizing beauty of the Canadian Rockies, Grande Cache offers an enchanting mix of rugged terrain and serene landscapes. The town lies adjacent to the Sulphur Gates Provincial Recreational Area and overlooks the Wapiti River, presenting spectacular views and a number of outdoor activities for nature enthusiasts.
With a population close to 4,000, according to the most recent Census, Grande Cache encompasses an array of cultures and age groups. The result is a vibrant and inclusive community spirit that makes Grande Cache an inviting place to both visit and live.
Cultural & Artistic Landscape in Grande Cache
Grande Cache vividly demonstrates its passion for arts and culture through a series of events and establishments. The town comes alive in summer during the annual Grande Cache Tourism and Interpretive Centre's Culture and Arts Camp.
Art enthusiasts can explore local art at the Grande Cache Municipal Library, which exhibits pieces from local artists periodically along with providing a vast collection of books and resources. Additionally, the Mountaineer Theatre, a charmingly intimate venue, showcases engaging performances all year round.
Educational & Research Facilities
Grande Cache's education system fosters an environment of growth and learning, boasting several well-regarded schools including the Grande Cache Community High School and SonRise Christian Program.
Public resources like the Grande Cache Municipal Library offer a quiet space for study, research, and leisure reading. This hub for knowledge, combined with the town's collaborative atmosphere, underpins a strong culture of education and learning.
Grande Cache's Highlights & Recreation
When it comes to outdoor recreation, Grande Cache is a treasure trove. Among the standout landmarks is the Grande Cache Lake, an ideal spot for fishing, canoeing, and wildlife sighting. The Willmore Wilderness Park, known for its diverse wildlife and hiking trails, promises an unforgettable experience.
Amid these natural wonders, the Grande Cache Labyrinth offers a serene setting for reflection and contemplation, making it a unique recreation spot.
Commerce & Conveniences
Despite being relatively small in scale, Grande Cache boasts an impressive array of shops, banks, and services. The Grande Cache Shopping Plaza serves as the town's central hub for essential goods and services, housing grocery stores, retail outlets, and a postal office.
Seasonal sales, particularly during holiday periods, make shopping in Grande Cache a special occasion, adding to the overall charm of this Rocky Mountain town.
Transport & Connectivity
For a town its size, Grande Cache is easily accessible and well connected. Public transport is provided by the Green Trip Transportation, offering regular bus services. Grande Cache Municipal Airport caters to small aircraft, while the larger Grande Prairie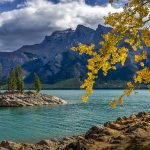 Grande Prairie Origins & Evolution Known for its economic resilience, Grande Prairie brims with a unique blend of history, growth, and vibrant spirit. Its origins trace back to the early 20th century, following the arrival of the Edmonton, Dunvegan and British Columbia (ED & BC) Railway in 1916. This pivotal development spurred settlement in the region, leading to the establishment... Airport is just a short drive away.
Sports Facilities
Sport is a significant part of the Grande Cache lifestyle, with facilities such as the Grande Cache Recreation Centre providing opportunities for football, ice hockey, and more. Furthermore, with numerous hiking, biking, and cross-country skiing trails, the town offers plenty of opportunities for physically active lifestyle.
Traveler's Final Take
All things considered, Grande Cache is a unique destination that seamlessly merges incredible natural beauty, rich history, and solid amenities, making it truly worthy of exploration.
Must-Visit Spots In Grande Cache:
– Grande Cache Coal Discovery Centre
– Sulphur Gates Provincial Recreational Area
– Grande Cache Municipal Library
– Mountaineer Theatre
– Grande Cache Community High School
– SonRise Christian Program
– Grande Cache Lake
– Willmore Wilderness Park
– Grande Cache Labyrinth
– Grande Cache Shopping Plaza
– Grande Cache Municipal Airport
– Grande Cache Recreation Centre.