Morris Origins & Evolution
Morris, an eloquent testimony to Manitoba's rich history, was established in the mid-19th century along the Red River. The town came to prominence due to its strategic location, serving as a major transportation hub for settlers heading west. A century and a half of existence have witnessed Morris growing from a mere trade post site into a bustling, developed urban centre. The city's heritage is preserved and showcased through various historic structures and cultural sites, such as the Morris MultiPlex, which stands as a testament to the city's evolution and development over the years.
City's Geography & Demography
Situated just 30 minutes south of Winnipeg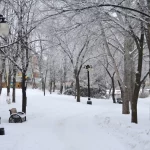 Winnipeg Origins & Evolution Known as the "Gateway to the West," Winnipeg, Manitoba's capital city, was originally settled by Indigenous peoples and later became a fur-trading post for the Hudson's Bay Company in the late 18th century. Officially incorporated as a city in 1873, Winnipeg quickly became a bustling railway hub due to its strategic location at the confluence of..., at the heart of the fertile Red River Valley, the city of Morris is well known for its picturesque rural scenery. Its climate experiences contrasting seasons, with remarkably warm summers and wintry, snow-laden winters ideal for various seasonal activities. As a demographically diverse small town, Morris boasts a population of slightly over 1,800 inhabitants. Each resident adds a unique hue to the multicultural tapestry, fostering a close-knit community.
Cultural & Artistic Landscape in Morris
Morris is not just a hub of commercial activity, but quite the hive for cultural pursuits too. Its creative spirit is vividly displayed through events such as the annual Manitoba Stampede, the oldest and largest rodeo in Manitoba. The city takes pride in its Morris Museum, a treasure trove of local history and artifacts. While the city might not house grand theaters or contemporary art galleries, it more than compensates through its community-driven events and performances.
Educational & Research Facilities
Education, deemed integral to the community's fabric, is well represented by the Morris School, providing education to various age groups. Morris also houses the Institutes for Biomolecular Science, wherein significant research activities unravel. The Morris library, an essential cornerstone for literacy, offers a wide range of books and research materials, making it an ideal spot for students, researchers, and knowledge seekers.
Morris's Highlights & Recreation
As for the sights and sounds of the city, Morris has plentiful. The crowning jewel is undoubtedly the Morris MultiPlex, a modern community centre and events venue. Nature enthusiasts can immerse themselves in the breathtaking beauty of the Morris Wetland Park, while the kids can frolic around in the city's well-maintained playgrounds. The Stampede Grounds serve as the site for the city's prime attractions.
Commerce & Conveniences
Commerce thrives in the heart of Morris, with a variety of stores and specialty shops. With both locally owned boutiques and some national chains present, shoppers have an array of choices catering to every need. Accurate services such as banks, postal services, and seasonal sales contribute to the city's convenience, making the life of the residents a comfortable one.
Transport & Connectivity
Transport in Morris is efficient and varied. The city offers excellent road connectivity, including major highways for easy transit. The Morris Municipal Airport enables further connectivity. For everyday commute, the city operates an efficient public transport network, making it effortless for inhabitants to move around.
Sports Facilities
Morris is also a city that celebrates sports. It boasts exceptional sports centres including the Morris MultiPlex and outdoor recreational areas. Sports such as hockey, football, and curling are widely popular and provide a perfect opportunity for residents to engage in communal activity.
Traveler's Final Take
A visit to Morris opens up a plethora of opportunities to experience its vibrant community spirit, discover its rich past, and enjoy its scenic natural beauty. With diverse amenities such as great educational establishments, convenient shopping options and a host of recreational activities, Morris truly offers a memorable experience for residents and visitors alike.
"Must-Visit Spots in Morris"
1. Morris MultiPlex
2. Morris Museum
3. Manitoba Stampede Grounds
4. Morris Wetland Park
5. Institutes for Biomolecular Science
6. Morris School
7. Morris Municipal Airport
8. Morris Library
9. Various local stores and specialty shops in the city center.
10. Sports Centers and outdoor recreational areas.