Prince Albert Origins & Evolution
Prince Albert, a vibrant city that carries an indelible mark of Canadian history, derives its moniker from Queen Victoria's husband. The city sprouted along the North Saskatchewan River as a settlement in 1866. It was founded by Reverend James Nisbet, a Presbyterian minister who ventured westward to establish mission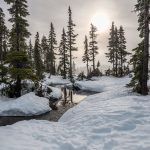 Mission Origins & Evolution Incorporated in 1892, Mission is a small, idyllic city in British Columbia, Canada. Its roots can be traced back to the establishment of St. Mary's Mission in 1861 by Father Fouquet. With abundant timberlands, the area started to develop significantly due to the forestry industry. The introduction of the Canadian Pacific Railway further fostered the city's... fields. Placed under a provisional district erstwhile called 'Saskatchewan,' it was incorporated as a town in 1885, elevating to a city in 1904.
As a reflection of its colorful timeline, Prince Albert hosts a medley of architectural styles, from Victorian and Edwardian to Modernist. These mirror the stages of the city's evolution, which was influenced by immigration, the fur trade, the expansion of the Canadian Pacific Railway, and forestry resources. Today, the city retains its charming old-world character while blending in contemporary Canadian lifestyle.
City's Geography & Demography
Located in the central region of Saskatchewan, Prince Albert is fondly nicknamed 'the gateway to the north,' hinting at its position as a mixed urban-rural community. It prides itself as a land where the Aspen parkland and Boreal forest meets, cris-crossed by the beautiful North Saskatchewan River. The tangible proximity to Mother Nature makes Prince Albert a captivating destination for nature lovers and outdoor enthusiasts.
In terms of demography, Prince Albert boasts a robust multicultural community. The substantial chunk of approximately 36,000 inhabitants identifies as aboriginal. This plays a key role in shaping the city's socio-cultural fabric, with First Nations history and traditions adding texture to the ever vibrant Prince Albert.
Cultural & Artistic Landscape in Prince Albert
Prince Albert is an artistic hub that values cultural diversity. The city bursts into a frenzy of festivities each summer with events like the Street Fair, Prince Albert Exhibition, and Northern Lights Casino Pow Wow. Autumn heralds the Culture Days, emphasizing community participation.
Several museums reflect the city's cultural richness, including the Prince Albert Historical Museum and Diefenbaker House Museum. John and Olive Diefenbaker's former residence turned museum reveals much about Canada's 13th prime minister's life. Theatres like E.A. Rawlinson Centre for the Arts and Mann Art Gallery, a public art space, continually draw applause for their artistic contributions.
Educational & Research Facilities
A strong emphasis on knowledge and research is evident in Prince Albert's educational institutions. The city houses the University of Saskatchewan Prince Albert Campus, offering a range of programs. The Saskatchewan Polytechnic Prince Albert campus offers trade and vocational training. Additionally, libraries like the John M. Cuelenaere Public Library cater to the broader community's literary cravings.
Prince Albert's Highlights & Recreation
From remarkable landmarks like the beautiful Historic City Hall to expansive parks like Kinsmen Park and Little Red River Park, Prince Albert inspires delight in the casual observer. You won't want to miss out on recreational spots like the Prince Albert National Park, home to diverse wildlife and scenic splendor.
Commerce & Conveniences
Prince Albert's commerce scene is headed by Gateway Mall, South Hill Mall, and Cornerstone, offering a variety of retail options. City Centre's shops house local arts, boutiques, and savory dining experiences. For quick conveniences, several banks, grocery stores, and Canada Post outlets spread across the city offer easy access.
Transport & Connectivity
Prince Albert connects well with the rest of Canada through the Prince Albert (Glass Field) Airport. In terms of public transport, the city operates a transit service while also offering taxi services. For those driving, major highways like Highway 2 connect Alberta and Prince Albert conveniently.
Sports Facilities
Sports form an essential part of the local life in Prince Albert. The city houses numerous athletic facilities, including the Art Hauser Centre, home to the city's beloved Prince Albert Raiders Hockey team, and Prime Ministers' Park, a multi-sport outdoor complex.
Traveler's Final Take
In conclusion, Prince Albert brims with a rich history, cultural diversity, high-quality educational institutions, and vibrant recreational facilities. Its multiethnic society, presence of arts and history, and nature's bounty make it a must-visit Canadian city. The city's thriving commerce and excellent transport connectivity further make it an ideal choice for any traveler.
Must-Visit Spots in Prince Albert:
Historic City Hall
Prince Albert Historical Museum
Diefenbaker House Museum
E.A. Rawlinson Centre for the Arts
Mann Art Gallery
University of Saskatchewan Prince Albert Campus
Kinsmen Park and Little Red River Park
Prince Albert National Park
Gateway Mall and South Hill Mall
Art Hauser Centre and Prime Ministers' Park
Prince Albert (Glass Field) Airport